Demi Lovato lashes out at fan who questioned her sobriety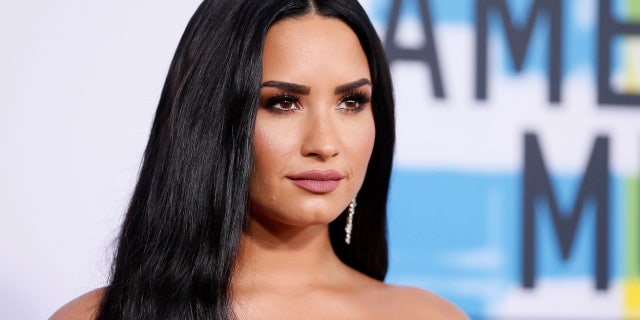 NEWYou can now listen to Fox News articles!
Demi Lovato spoke out against a fan who accused the singer of breaking her sobriety.
A recent Instagram photo of Lovato hanging out with some of her old Disney Chanel friends caused one fan to question whether or not the singer is still sober.
In the image, which surfaced on a fan Instagram account for Hayley Kiyoko, Lovato is huddled with her group of friends and appears to be holding a half-full glass of some kind of beverage.
Speculation of the mystery drink came after Lovato's friend Matthew Scott Montgomery first shared the image on his Instagram, but the glass the singer is holding in the photo isn't completely visible.
In the image that was shared a day later on the Hayley Kiyoko fan page, Lovato's glass is in full view.
Debating the contents of the glass and wondering if the singer had possibly relapsed from sobriety, a commenter wrote on the image, "I'm not tryna question Demi's sobriety bc I have a lot of respect for her." They then added, "It just seems weird that her best friends post this pic with it shaded and then Hayley who isn't rlly that close to Demi posts the one where you can see what she's holding?? Like tf is going on."
But the "Sorry Not Sorry" singer was quick to respond to the Instagram debate and was definitely not sorry when she noticed the commentator's remarks. The star clapped back at the fan who suggested that she had possibly been drinking and said, "I don't have to defend anything but it was Red Bull."
Lovato, who recently celebrated six years of sobriety, has been anything but shy about her the story about her past struggles with drugs, bipolar disorder and a battle with bulimia.
In a March interview with Billboard Magazine, the singer opened up about the time she almost relapsed while at the 2016 Met Gala.
"I had a terrible experience," Lovato told the mag of her recent time at the annual fashion gala. "This one celebrity was a complete b---h and was miserable to be around. It was very cliquey. I remember being so uncomfortable that I wanted to drink."
After being trigged that night at the gala, the star confessed that she texted her manager and immediately left the event and headed to a 10 p.m. Alcoholics Anonymous meeting.
The 25-year-old singer admitted that she feels better when she can hold herself accountable and can be honest and open about her struggle. "When I started talking about my sobriety — I can never be seen at a club getting wasted," she said. "If I relapse, it shows my fans it's OK to relapse. And I can't do that."