'Deadliest Catch' captains say social media integral to show's continued success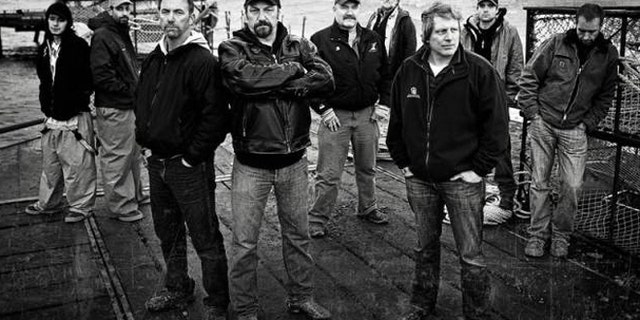 Watch out Austin, the captains from the hit Discovery series "Deadliest Catch" are swapping the deep sea for Texas and heading up the Twitter for Tough Guys panel this weekend at the SXSW Festival.
Given that they have just returned from months of isolation trolling the Bering Sea for King Crab, the boys are bracing themselves for the onslaught of attention.
"It will be awesome, but when we first get back from fishing it takes a few days so it will be a little disconcerting," Captain Keith Colburn told FOX411's Pop Tarts column.
Alongside Colburn will be Captains Sig Hansen and Johnathan Hillstrand to discuss the role social media has played in the groundbreaking series, which returns for its ninth season in April. And aside from having shared their death-defying occupation with the world for several years now, it seems the show has taught the crabbers a thing or two.
"Four years ago we didn't know how to turn on a computer, and now we're doing social media," Hillstrand said proudly, while Colburn added how Twitter has made them feel a little less lonely.
"Ten years we had to get a radio dispatch just to make a call, but technology is moving so quickly it's hard to keep up," he said. "We now have the ability to stay connected while on a boat, it helps give a little insight as to what is going on in the world."
And while the captains are officially celebrities now, don't expect them to ever go "all Hollywood."
"(Filming) hasn't changed the way we do our job. We've booted the Discovery camera crews twice, but there is now this respect between the two entities," Hillstrand insisted. "Most guys out there and begging to get on TV, but we really couldn't give a s**t."
The popularity of "Deadliest Catch" has apparently also ignited a rampant interest in others wanting to take up crab fishing, but it takes a special kind of person to actually be successful.
"A lot of people out there want to do it, but it's not weekend bungee jumping," Coburn explained, adding that there are fewer than 400 people in the entire world who do what they do.
And as much as the boys' appreciate those who watch and support the show, they're also urging fans to use just a little common sense.
"It still blows my mind how stupid people can be. They think the show is in real time, but it takes nine months to put this together. Fans from overseas show up in the summertime, even though crab fishing season starts in October," Hansen added. "The police have to keep them off the beach as they are sleeping in tents waiting for the 'Deadliest Catch' people to come back."
Deadliest Catch's Twitter for Tough Guys is on Saturday 12:30-1:30pm at the Hyatt Regency Austin. The Captains Concert will kick off at 8pm at Stubb's.