David Spade pays tribute to late sister-in-law, Kate: 'I still can't believe it'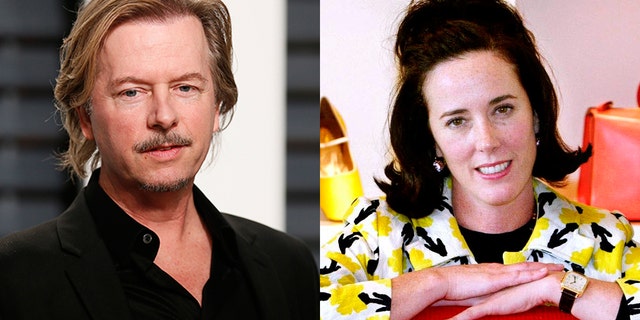 NEWYou can now listen to Fox News articles!
David Spade is paying tribute to his late sister-in-law, Kate, who was found dead by an apparent suicide in her New York City apartment on Tuesday. She was 55.
"Fuzzy picture but i love it," David, who is the brother of Kate's husband Andy, captioned a picture of himself with the famed fashion designer on Instagram.
"Kate and I during Christmas family photos," continued David. "We had so much fun that day. She was so sharp and quick on her feet. She could make me laugh so hard. I still cant believe it."
Added the actor: "Its a rough world out there people, try to hang on."
David, 53, also took to Twitter to honor Kate. "Katy at my book signing," the comedian captioned a photo of the pair. "I love this pic of her. So pretty. I dont think everyone knew how f---ing funny she was... Its a rough world out there people. Try to hang on."
Kate's body was discovered by a housekeeper at her Upper East Side apartment, a source previously told Fox News. The source added that Spade's husband was home at the time of her death.
The Associated Press reported Spade was found with a red scarf around her neck attached to a doorknob. The couple's 13-year-old daughter was at school at the time and officials said a note was found at the scene telling her it was not her fault.
"We are all devastated by today's tragedy," Spade's family said in a statement to the New York Daily News. "We loved Kate dearly and will miss her terribly. We would ask that our privacy be respected as we grieve during this very difficult time."
Spade's sister, Eve Brosnahan, also reportedly told the outlet: "It's very difficult. I can't right now. I just can't."