'Dancing With The Stars' Returns With A Bang And A Few Changes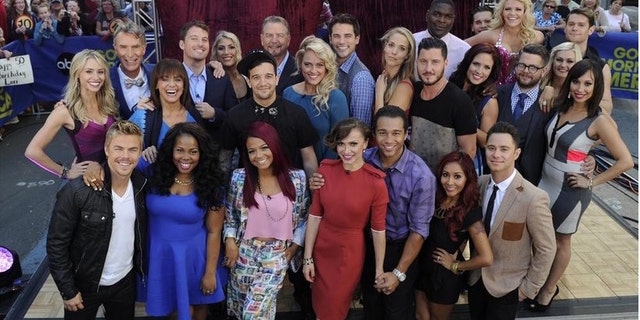 Returning for its 17th season, this year's "Dancing with the Stars" cast of dancers is not messing around and is back with their "A" game – a delight for the audience and the judges alike.
"Week one! I don't think I have ever given an 8 on week one," said returning judge Len Goodman at the end of the show. "This was fantastic."
While the panel of judges remain the same (Goodman is joined by Carrie Ann Inaba, Bruno Tonioli, Tom Bergeron and Brooke Burke-Charvet), there are a few noticeable changes.
Now the show only airs one night of the week, instead of two, and the stars no longer chat with Burke-Charvet in the skybox while they await scores. Instead, they sit near the judges and audience and get their scores while standing with Bergeron after their dance.
Now on to Monday night's dances.
Starting off the evening, Brant Daugherty, an actor who has appeared in "Pretty Little Liars" and "Army Wives." danced with Peta Murgatroyd the cha cha to "Blurred Lines." Judges' comments: Goodman loved it and called it "fabulous." Inaba saw a lot of potential and a chemistry between them that "is going to be fun to watch." Tonioli said they lost some timing but that it was a "sizzling teasing of what's to come."
Score: 23/30
Actress Leah Remini, who recently left the controversial church Scientology, was up next with partner Tony Dovolani, whose fox trot went so smoothly it brought her longtime friend Jennifer Lopez – who was there to support her – to tears. Judges' comments: Tonioli asked if she really had never done it before and called the dance a "foxy trot." Inaba said Remini had class and sass and the dance showed "all shades" of the actress. Goodman said it was "clean and precise."
Score: 21/30
"High School Musical" star Corbin Bleu and Karina Smirnoff danced in a contemporary style that included turns and lifts all over the place. It was graceful and the audience loved it. Judges' comments: Inaba said it was "beautiful." Goodman said it was strong, powerful, athletic but with a "tender touch." Tonioli said it was full on.
Score: 24/30
Jack Osborne showed that multiple sclerosis was not going to stop him from living his life. He and partner Cheryl Burke beat the stigma of the disease with their fox trot, bringing parents Sharon and Ozzy Osborne to tears. Judges' comments: Goodman said he is giving his sister Kelly "a run for her money." Tonioli called it "playful" with incredible footwork. Inaba called him a ballroom dancer with "nothing but class."
Score: 23/30
Wowing everyone was "Glee's" Amber Riley, who brought a big chunk of the audience to their feet – including fellow show cast members Chris Colfer, Dianna Agron, Kevin McHale, Jenna Ushkowitz and Ashley Fink. Her cha cha with partner Derek Hough was energetic and sassy, getting the first 9s of the season. Judges' comments: Tonioli called her the "tigress of season 17." Inaba bowed down to Riley saying she was "breathless." Goodman called it incredible "full-on, flat-out fabulous."
Score: 27/30
"Saved by the Bell" star Elizabeth Berkley and partner Val Chmerkovskiy performed a subdued yet powerful contemporary dance to "Imagine." Judges' comments: Inaba said she was a "gorgeous, sensuous, passionate poetic angel." Goodman called it "lovely." Tonioli said the "original Showgirl is back and she means business."
Score: 24/30
Already fan and audience favorite Bill Nye, "The Science Guy," was a little stiff in his performance with partner Tyne Stecklein, but it did not stop him from having fun. Judges' comments: For Goodman it was like "being waxed – painful when it happened and lovely when it was over." Tonioli said "the formula would not be getting a Nobel Prize." Inaba said he was what the show was all about and called him "the heart of the show."
Score: 14/30
Former NFL player Keyshawn Johnson found the ballroom was different from the gridiron. His cha cha with partner Sharna Burgess was steamy – when they got to the grinding part of the choreography. Judges' comments: Tonioli said it was like having "the Empire State Building be a Rockette. It's very hard." Inaba said it was stiff at the beginning. Goodman told him to work on his technique but loved his attitude.
Score: 17/30
Pop singer Christina Milian, who was nervous during rehearsal, and Mark Ballas' contemporary dance had a goth feel in the smoky dance room. Judges' comments: Inaba said she moves beautifully but recommended her to "open more." Goodman said the dance had mood and wants to see her not be "so careful." Tonioli loved the torment and the intensity of the dance.
Score: 22/30
Comedian Bill Engvail and partner Emma Slater took on the fox trot. And while he was nervous about dancing, Engvail took command of the dance well. Judges' comments: Goodman said he held his nerve and remembered the routine; "well done," he concluded. Tonioli said he could sense "a hint of sophistication." Inaba said she was only "half-way surprised."
Scores: 18/30
Actress Valerie Harper, who is battling terminal cancer, wowed the judges and audience with her strength and determination to not let life stop because of her disease. "It's good to be alive and it's better to be dancing," she said after finishing the fox trot with partner Tristan MacManus. Judges' comments: Tonioli said "How can you criticize a national treasure? You are an inspiration to the nation." Inaba, who shed some tears," said Harper was setting an example to everyone about the healing power of dancing. Goodman praised her elegance.
Score: 21/30
Nicole "Snooki" Polizzi and partner Sasha Farber ended the night with a sizzling cha cha. Side note – she wants to be called Nicole, not Snooki. "I am very excited to show America that I am a different person now that I am a mom and that I am not a mess like people really think I am." Judges' comments: Inaba said it was great and said she was impressed Snooki "just went for it." Goodman loved her footwork "nice and crisp." Tonioli praised her legs.
Score: 23/30
Nobody went home Monday night, but a star will be eliminated next week.