Dakota Meyer says he's the biological father of Bristol Palin's baby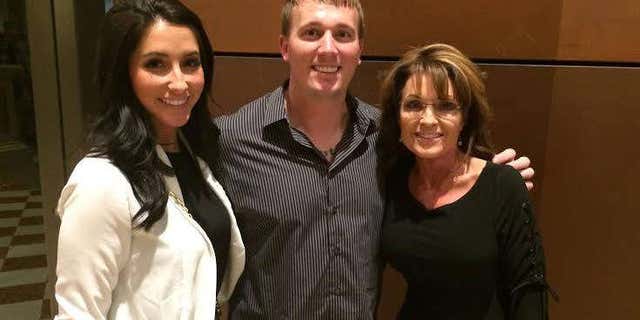 Medal of Honor recipient Dakota Meyer is looking to gain joint custody of his child with Bristol Palin, according to his attorney in a complaint filed Wednesday.
Kimberlee Colbo, Meyer's attorney, filed a complaint in Alaska Superior Court saying that Meyer believes he is the biological father of Palin's daughter Sailor Grace Palin, according to the Marine Corps Times.
"Meyer and Palin had a relationship and were engaged to be married until May 2015," the complaint said. "Meyer believes that he is the biological father of the minor child."
The complaint also insists that it is in the baby's best interest that both Palin and Meyer share joint legal custody of her, according to the Marine Corps Times.
"Dakota couldn't be more excited to be a new father and be the best dad that he can be," Colbo said in a statement to the Marine Corps Times. "To him, that means being a big part of his daughter's life. Beyond that he'd really appreciate and thank his friends, supports and the news media for respecting the privacy of each family in this very personal matter."
Bristol Palin gave birth to Sailor on Dec. 23. It is the second child out of wedlock for the 25-year-old daughter of 2008 Republic vice presidential nominee Sarah Palin. Bristol Palin has not publicly identified the father of her second child, but announced she was pregnant shortly after her engagement to Meyer ended.
Meyer was ecstatic when he learned of the birth tweeting that day: "Best Christmas present ever!! I couldn't be more proud of this little blessing." He also posted a photo of a sleeping infant held by someone wearing a hospital gown with the same pattern as the one shown on Bristol Palin's Instagram post.
The complaint in Alaska court calls for awarding child support, but Colbo iterated that Meyer isn't seeking any form of compensation.
"At this point, no one is seeking child support," Colbo told the Marine Corps Times. "Mr. Meyer simply seeks to be a part of his daughter's life."
Meyer was awarded the Medal of Honor in 2011. At the time he was the only living Marine to receive the military's highest valor award since the Vietnam War. Meyer was honored because of his heroic efforts in 2009 when he went into an Afghanistan kill zone five times and recovered the bodies of three Mariners and a Navy corpsman, who was surrounded by the Taliban.
The Associated Press contributed to this report.