'Curly Sue' star Alisan Porter's 'Voice' audition brings Christina Aguilera to tears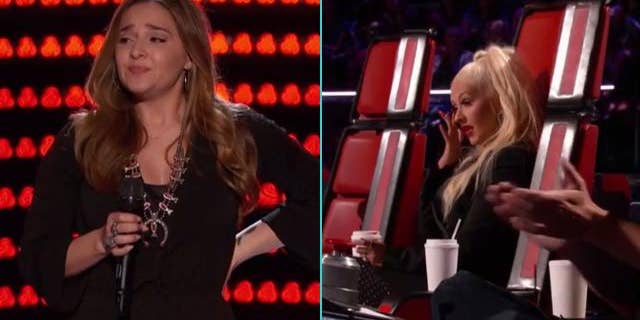 NEWYou can now listen to Fox News articles!
"The Voice" may have found its early frontrunner.
Former child star Alisan Porter set the bar high on the season 10 premiere of "The Voice" on Monday, owning the stage with her flawless blind audition of Linda Ronstadt's "Blue Bayou."
From the first note, Alison -- best known for playing Curly Sue in the 1991 film -- sent chills down the coaches' spines and prompted one of the quickest three-chair turns in Voice history, with Blake Shelton, Pharrell Williams and Adam Levine all immediately wanting in. Christina Aguilera took a little longer to convince, but after hearing one of Porter's impressive high notes, she had no choice but to hit that button.
RELATED: Christina Aguilera Wants to Win 'The Voice' Season 10 Badly
After Alisan scored a deserved standing O from all four coaches, Adam turned on the charm, kissing her hand and bowing down, before Christina took her turn to persuade the talented singer to pick Team Xtina by worshipping her at her feet. Spoiler alert: She did!
But before she chose Xtina, Alisan stunned several of the coaches, namely Adam and Christina, when she revealed she was Curly Sue. "Shut up! No way ...," Adam said in disbelief.
Pharrell asked why it took her to this point to realize that singing -- not acting -- was her calling, and that was when she broke down.
RELATED: Christina Aguilera, Will Ferrell and Jimmy Fallon Dance in Their 'Tight Pants'
"Honestly, I was going through a hard time in life. I got sober almost eight years ago," Alisan bravely revealed, before tearing up. "I fell in love and I had children. That was my goal, to just be a good mom. And I really feel like the universe just had a plan for me because you guys turned for me today."
Touched by her story, Christina wiped a tear and praised Alisan for overcoming life's obstacles.
"I really am moved by your story," the 35-year-old singer said, her voice cracking. "Nobody works harder than a mom and just inside of you, there's so much to say and people need to hear that hope. And between your story and those pipes of yours, I want to be a part of your history."
PICS: Christina Aguilera Channels Old School Xtina in New 'Voice' Promo Photos
But Adam believed Alisan could run away with the competition: "You're going to win 'The Voice,'" he declared.
Earlier in the audition, Alisan revealed how much auditioning for "The Voice" means to her.
"I've had an amazing career but as much as I loved acting, none of that was genuinely who Alisan Porter is. In my soul, I'm a singer," she said in a pre-taped package. "It means everything to me to stand on a stage a sober, clear human being, a mom, a wife and just sing a beautiful song and have people recognize that I'm somebody who deserves a shot at my dream."
Adam may be on to something: This season of "The Voice" could be Alisan's to lose!