Critics Burn Confederate Flag As Musician Kid Rock Is Honored by NAACP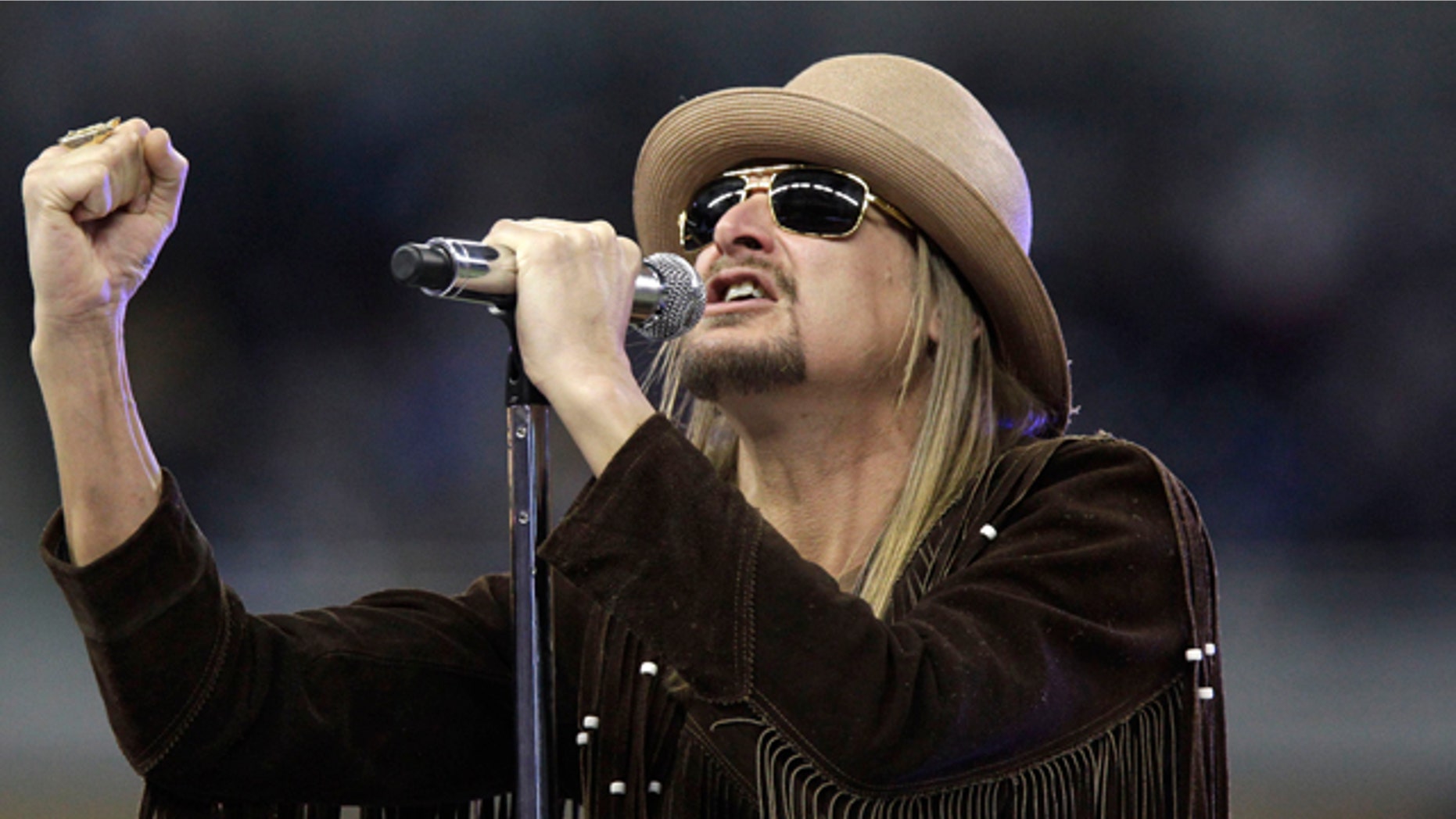 Grammy-nominated artist Kid Rock told a crowd of almost 10,000 people in Detroit on Sunday that his use of the Confederate flag during on-stage performances has nothing to do with how he feels about African Americans.
"I love America. I love Detroit, and I love black people," the musician said during the annual Fight for Freedom Fund dinner, hosted by the Detroit branch of the National Association for the Advancement of Colored People (NAACP).
Kid Rock, whose real name is Robert Ritchie, used the event to diffuse criticism aimed at the Detroit NAACP branch which honored him with its Great Expectations Award.
The Macomb County, Mich., native said his use of the flag derives from a popular song by country music legends Lynyrd Skynyrd.
Earlier, a group of about 60 people picketed outside the Cobo Center protesting the decision to honor Kid Rock. The group also burned a replica of the flag, considered a symbol of racism and oppression to black people in the South.
Detroit NAACP President Wendell Anthony said the musician was being honored for his advocacy of the city.
"We're not lifting up the flag," Anthony said earlier Sunday. "We're lifting up a gentleman who has worked very hard to be a booster for Detroit."
From the time it was first announced, the choice of Kid Rock as honoree has been criticized by some who said the use of the Confederate conflicts with the NAACP's message.
"It stands for hatred, bigotry, racism, murder," Detroit political consultant Adolph Mongo said. "Every bigot and racist in this country loves that flag."
Mongo helped ignite the flag about 5:00pm. It took several attempts with a cigarette lighter before the flag caught fire to chants of, "Burn, baby, burn."
But Kid Rock, who appeared at the event with his son, received a loud applause when he was introduced and again when he stood to accept the award.
He announced $50,000 in donations from his foundation to Detroit recreation centers, a conservancy on the city's Belle Isle, a youth theater group, a youth training agency and Habitat for Humanity. He also announced that his foundation would be donating $50,000 to storm relief efforts in tornado-ravaged states.
"We're fortunate enough that we haven't been touched by Mother Nature like our friends in the South have," he said. "That's what Detroit city is all about."