Country star Brett Young was 'built' for touring and success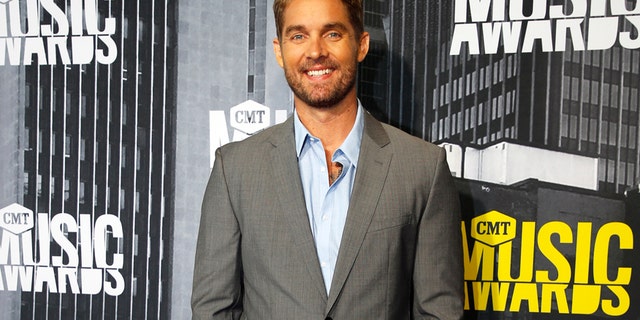 NEWYou can now listen to Fox News articles!
Brett Young is living out his dreams as his new single, "In Case You Didn't Know" has sold over one million units and is continually topping the charts.
"It's pretty surreal, I've been doing music for a really long time so it feels weird to say everything is happening fast," he told Fox News. "But the trajectory in the last year has been pretty unreal."
He is on tour with Lady Antebellum right now and unlike some artists who don't like the road life, Young was "built" for it.
"I love the road. I would call myself a roadie," he said with a laugh. "All the way down to sleeping on the bus. I love the way it sways and moves in the middle of the night. Everything about it is so great for me. I was built for this…I like it on the road I wouldn't have it any other way. This is why I work so hard for the last 13 or 14 years to get into this position. I'm so grateful to be here."
And the 36-year-old prides himself on his songwriting abilities.
"I wrote 11 of the 12 songs on the record," he explained. "Inspiration kinda can come from anywhere for me. In my personal life being vulnerable is difficult, but for some reason in songwriting it is a very comfortable outlet for me and I think because I want to connect with people I've come to realize how important it is to put yourself out there because they won't feel you, so to speak, they won't be able to relate and then song won't connect."
While Young is just starting out, he already has his heart set on following in the path of country superstar Tim McGraw.
"The bucket list artist that I could either duet or share a stage with is and has always been Tim McGraw. He had a song, "Don't Take The Girl" back in the early 90's…that was the song that turned me onto Country music, it happened by accident…I need to dig into country music more. He's the iconic country music career that I aspire to have."
And at the end of the day, he's not taking his any of his success for granted.
"I think I always hoped their would be success but I'm also really good at managing my expectations so I like to keep them low so I am never disappointed," he said. "I think what I would call realistic maybe most people would call negative but I always try to keep expectations low and hope for the best and so everything that has happened in the last 18 months has been a huge pleasant surprise."