Country singer Martina McBride pursues cooking passion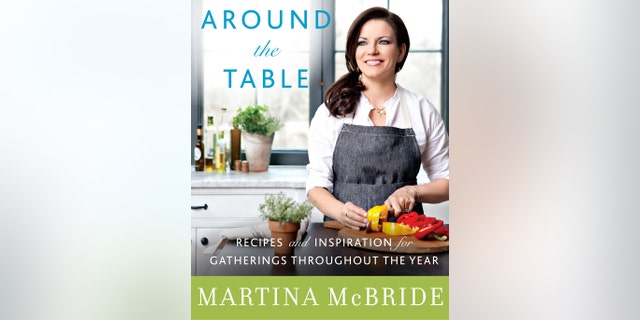 Country super star Martina McBride admits that if she wasn't a singer she would love to be a party planner. The beloved country performer loves entertaining and now she's compiled her favorite recipes and tips into a book. Called "Around the Table" it's just in time for the holiday season. McBride spoke to FOX411 Country about the book and what she's working on.
FOX411: What's your biggest tip from the book?
Martina McBride: I think just planning ahead, making lists. I think there's no such thing as effortless entertaining, you have to put some effort into it. Not that it has to be fancy or expensive but even if you're making meatloaf and mashed potatoes you have to plan ahead. So that's really important for you to be able to pull it off.
FOX411: Do guests expect a mini-concert when they come to your house for dinner?
McBride: (laughs) No, no I don't really mix that. I don't really sing at my own parties.
Follow @FOX411Country for the latest in country music news
FOX411: Is the cookbook Southern?
McBride: It's not really Southern food. I grew up in Kanas, in the Midwest. I've traveled all over the world so there's recipes from all over. I have a couple of friends who live in Tuscany so they came over to my house last year and helped me come up with some authentic recipes.
FOX411: Trisha Yearwood is also a cook. Who would win in 'Iron Chef?'
McBride: (Laughs) I'm not really a chef. I'm just like everyone else. I cook at home, I have good recipes. I've never had Trisha's food but I know she's a fantastic cook so she would probably win.
FOX411: It seems like there are more and more cookbooks and cooking shows yet people are doing less cooking at home.
McBride: I feel like everyone's really busy and one of the messages I wanted to send is just maybe once a month or four times a year, whatever, just take the time to make something and invite people over. I feel like it's really worth it to share your home and make the memory. So go for it every now and again. Cooking is a way of nurturing and showing people that you care. It always makes me feel good when I make a meal and have people sit down at the table and enjoy it.
FOX411: What else are you up to?
McBride: I have a record out now called 'Everlasting' which we're touring with. It's a collection of some of my favorite iconic pop, soul and R&B covers, people like Aretha Franklin, Otis Redding and Elvis. We've been having a lot of fun touring with that.
WATCH: Kellie Pickler's new gig