Country legend Ray Price remembered as gentleman at memorial service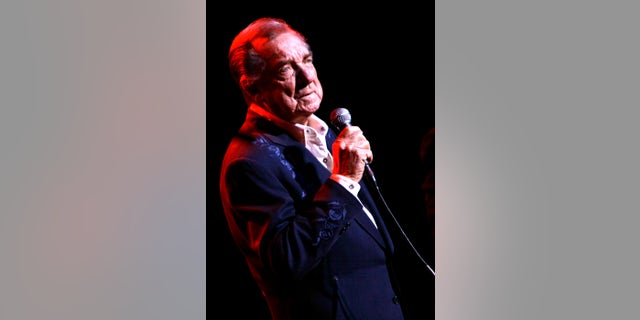 Country Music Hall of Fame member Ray Price was remembered at a memorial service on Saturday in his East Texas hometown as a musical innovator and a gentleman.
Hundreds of people packed the service in Mount Pleasant, the town about 110 miles northeast of Dallas where Price had lived for 31 years.
At the service, long-time country radio personality Bill Mack of Fort Worth read a statement from Willie Nelson.
Nelson wrote that, "Without a Ray Price, there wouldn't have been a Willie Nelson." Price gave Nelson his first big break when he hired Nelson to play bass in his band, The Cherokee Cowboys, after Donald Lytle, better known as Johnny Paycheck, quit.
"He asked me, 'Can you play bass?'" wrote Nelson. "I said, 'Who can't play bass?'"
"Well, he found out I can't play bass," said Mack, as he finished Nelson's anecdote.
Price died from pancreatic cancer on Monday at the ranch he owned with his wife, Janie, outside Mount Pleasant. He was 87.
The Mount Pleasant Daily Tribune reported that during the memorial service inside the First Baptist Church, a country music quartet played various Price songs, including "In the Garden", "Danny Boy" and "Let's Make a Memory Today."
Dallas Wayne, a SiriusXM satellite radio DJ for the country channel Willie's Roadhouse, said Price was a gentleman off the stage as well as on it, possessing "heart and soul, grace, dignity, elegance and character."
Eddie Stubbs, a radio host with the Grand Ole Opry in Nashville offered his condolences from the county music industry, the newspaper reported.
"He was as good as any of his contemporaries," Stubbs said, "and no one was his superior."
Over his career, Price earned the respect of his colleagues by constantly perfecting his craft, Stubbs said.
"As a result, his voice is just as fresh today as it was 65 years ago," he said.
Price is credited with changing the sound of country music as he collaborated with the genre's biggest stars, and he remained relevant for more than half a century.
He recorded more than 100 hits and is perhaps best known for his version of the Kris Kristofferson song, "For the Good Times."
A funeral is planned for Dec. 28 in Dallas.