Cosby trial: Andrea Constand remains calm as defense grills her
NEWYou can now listen to Fox News articles!
Bill Cosby's chief accuser Andrea Constand remained calm as she was questioned by one of Cosby's lawyers during day three of the comedian's sex assault case Wednesday.
Los Angeles lawyer Angela Agrusa has spent a painstaking hour going over Andrea Constand's old phone records. She hopes to show Constand changed her mind about the date of the alleged 2004 assault after reviewing them.
But Constand says she never got the records from Temple University for the work-issued phone. The prosecutor said there were no calls made between March 31, 2004 through August of that same year.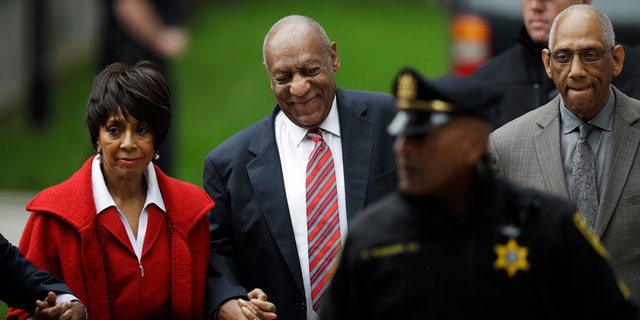 Constand added "it would surprise me if there was a call during that period" because her last day at Temple University was March 31. In addition, Constand responded she did not constent to taking Benadryl or anything herbal.
Constand has said she felt her friendship with Cosby was important to the school's athletics department. She managed the women's basketball team at Temple while he was a high-profile trustee. She mentioned Wednesday one of the gifts she gave to Cosby was her face superimposed on a "Fat Albert" picture.
Agrusa has suggested that Constand once enjoyed a romantic dinner by the fire at Cosby's home before the alleged assault. But Constand insisted the mood was friendly saying, "Mr. Cosby never disclosed to me that he was interested in a romantic interaction with me."
Cosby arrived in court Wednesday along with his longtime hair stylist John Achison and Achison's wife, actress Sheila Frazier. The disgraced comedian's wife Camille Cosby has not been by her husband's side since the trial began Monday.
However, the 79-year-old entertainer seemed in better spirits Wednesday. During a court break, Cosby jokingly stopped and pretended to fall, making his publicist, as well as some police officers, laugh.
Constand testified Tuesday that she shot down the actor's casual advances twice before she found herself paralyzed and unable to fight him off the night she took pills that he convinced her were safe herbal supplements.
Before Tuesday, Constand had never spoken about Cosby in public, barred from doing so under the terms of a confidential settlement they reached in 2006. Her deposition from that lawsuit remains sealed.
Cosby, 79, is charged with drugging and sexually abusing Constand in 2004. The TV star once dubbed America's Dad could get 10 years in prison if convicted.
Some 60 women have come forward to say Cosby sexually violated them, all but destroying his nice-guy image, but the statute of limitations for prosecution had run out in nearly every case. Constand's case is the only one in which Cosby has been charged.
Fox News' Lissa Kaplan and the Associated Press contributed to this report.