Cooking with 'Friends': Ainsley Earhardt's Southern Pimento Cheese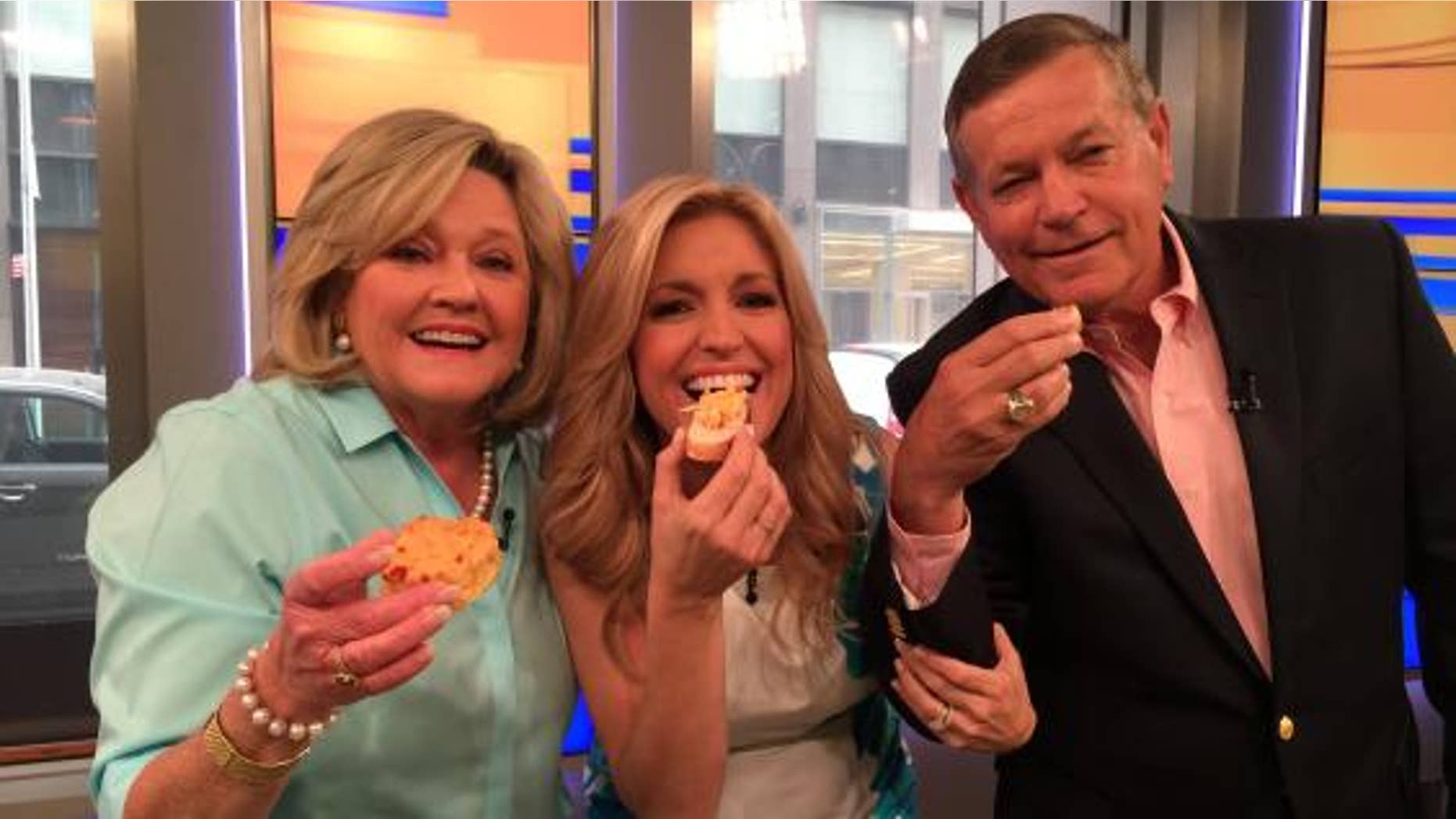 DALE EARHARDT'S SOUTHERN PIMENTO CHEESE
Ingredients:
¾ to 1 c. Hellmann's mayonnaise, depending on how creamy you like it
1 small jar of diced pimiento (reserve 1 tbsp. of juice)
1 (8 oz.) block extra sharp Cheddar cheese, finely shredded
1 (8 oz.) block of sharp Cheddar cheese, shredded
1 (8 oz.) block Swiss cheese, shredded
½ c. grated Parmesan Cheese
Black Pepper
Instructions:
Stir together all ingredients in a large bowl. Store in refrigerator up to 1 week. Serve with crackers, French rounds, apples or in hot, mini fillo shells. It's also great for hot, toasted sandwiches, on burgers or on fried-green tomatoes.
-----------------------
DALE EARHARDT'S PIMENTO CHEESE BISCUITS
Ingredients:
2½  c. self-rising flour
½ tsp. salt
1 tsp. sugar
½ c. butter
1 c. buttermilk
1 jar diced pimentos, drained
1½ c. shredded sharp cheddar cheese
Instructions:
Preheat the oven to 475°F. Combine self-rising flour, salt, and sugar. Add butter – cutting it into the flour using a pastry cutter or large fork. Stir in buttermilk, pimentos and cheese.
Turn the dough onto a well-floured surface. Knead the dough lightly, being sure to fold the dough in half 3 or 4 times. Roll the dough out until it is ¾" thick.
Use a biscuit cutter to cut the biscuits. Transfer the biscuits to a baking pan.
Bake for 14-16 minutes.
-----------------------
DALE EARHARDT'S PIMENTO CHEESE TOMATO PIE
Ingredients:
4 tomatoes, peeled and sliced
10 fresh basil leaves, chopped
1 medium Vidalia onion, sautéed onion in 1 tbsp. butter
6 slices of bacon, cooked and crumbled
1 pie shell (my favorite: Pillsbury rolled, refrigerated pie crust)
Salt and pepper
Instructions:
Preheat oven to 350°F.
Bake pie crust for 5-to-8 minutes.
Slice tomatoes, put on paper towels and let them drain for about 10 minutes. Cover with salt and pepper.
Layer bottom of pie crust with half of the tomatoes. Sprinkle less than one tablespoon of sugar. Layer sliced sautéed onions, cooked bacon, and basil. Add one more layer of tomatoes and sprinkle with a bit of sugar. Spread layer of Pimento cheese (see recipe above).
Bake until golden brown for about 30 minutes.