Conservative documentary film '2016: Obama's America' poised to surpass Al Gore's 'An Inconvenient Truth'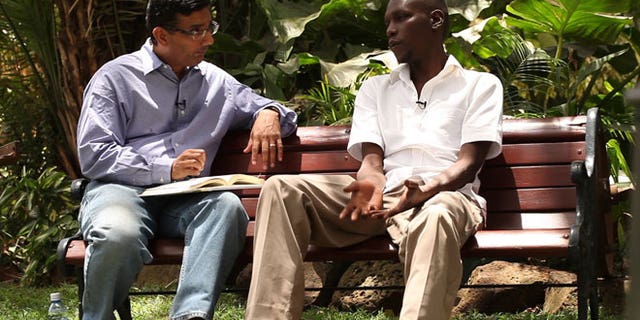 Just a few months ago, distributing "2016: Obama's America" was problematic for filmmaker and journalist, Dinesh D'Souza. But now, the controversial documentary is blasting through the box office and will expand to 1725 screens across the country this weekend.
The conservative film soared to earn $6.3 million in just 1091 screens last weekend, bringing its total earnings to over $9.2 million. In addition, it was up 423 percent from the previous week, and is rapidly climbing towards the top of the charts.
"We're really ramping it up to the next level, theaters are begging for the film because they know our per-screen average is the highest in the country right now. We are on-track to surpass Al Gore's 'An Inconvenient Truth' and who knows, we could even reach Michael's Moore's 'Fahrenheit 9/11' box office numbers," D'Souza told FOX411's Pop Tarts column. "That film had a major distributor and opened in 900 theaters, we opened in one. And we don't have a big Hollywood studio behind us."
Comparatively, Moore's famous 2004 documentary – distributed by Lionsgate – grossed $119 million domestically and remains the most successful political documentary of all-time. Gore's film on global warming and climate change, distributed by Paramount Classics, grossed $24 million across the U.S.
However, D'Souza said the biggest challenge with regard to the film, which seeks to show the potential negative ramifications if Obama is re-elected for a second Presidential term, is getting leading certain mainstream media outlets to pay attention to it.
"Several outlets are still willfully ignoring the movie. Yet, if it was a Michael Moore production they would be salivating all over it," he continued. "I'm happy to go and debate, but I think a lot of places like MSNBC are afraid to have knowledgeable opponents. There's hesitancy in America to not support Obama, journalists stop being journalists and start being Obama protectors."
MSNBC did not respond to a request for comment.
Regardless of the press coverage, or lack thereof, D'Souza is determined to make sure that "2016" reaches as many Americans as possible ahead of the November election, and hopes it will become such a talking point that even the most liberal news networks will no longer be able to ignore it – and he has some tricks up his sleeve.
"We just screened it at a film festival across from the Republican National Convention, the response was overwhelming. People feel energized that there is an intelligent critique of Obama," D'Souza quipped. "I hope to go to the Democratic National Convention next week too, I would like to generate some healthy debate."
But it's not just mainstream media outlets that D'Souza hopes to reach – its Hollywood too.
"All these big, expensive Hollywood films cost so much to make and they are having trouble keeping pace with us," D'Souza added. "And Obama is considered a darling in Hollywood. We approached a lot of people to help with the film, and they said they would love too but it would be career suicide. In the end, some did help, but they have had to keep their names off it."