CNN's Jim Acosta claims he was not mocking Trump supporters when he said 'their elevator might not hit all floors'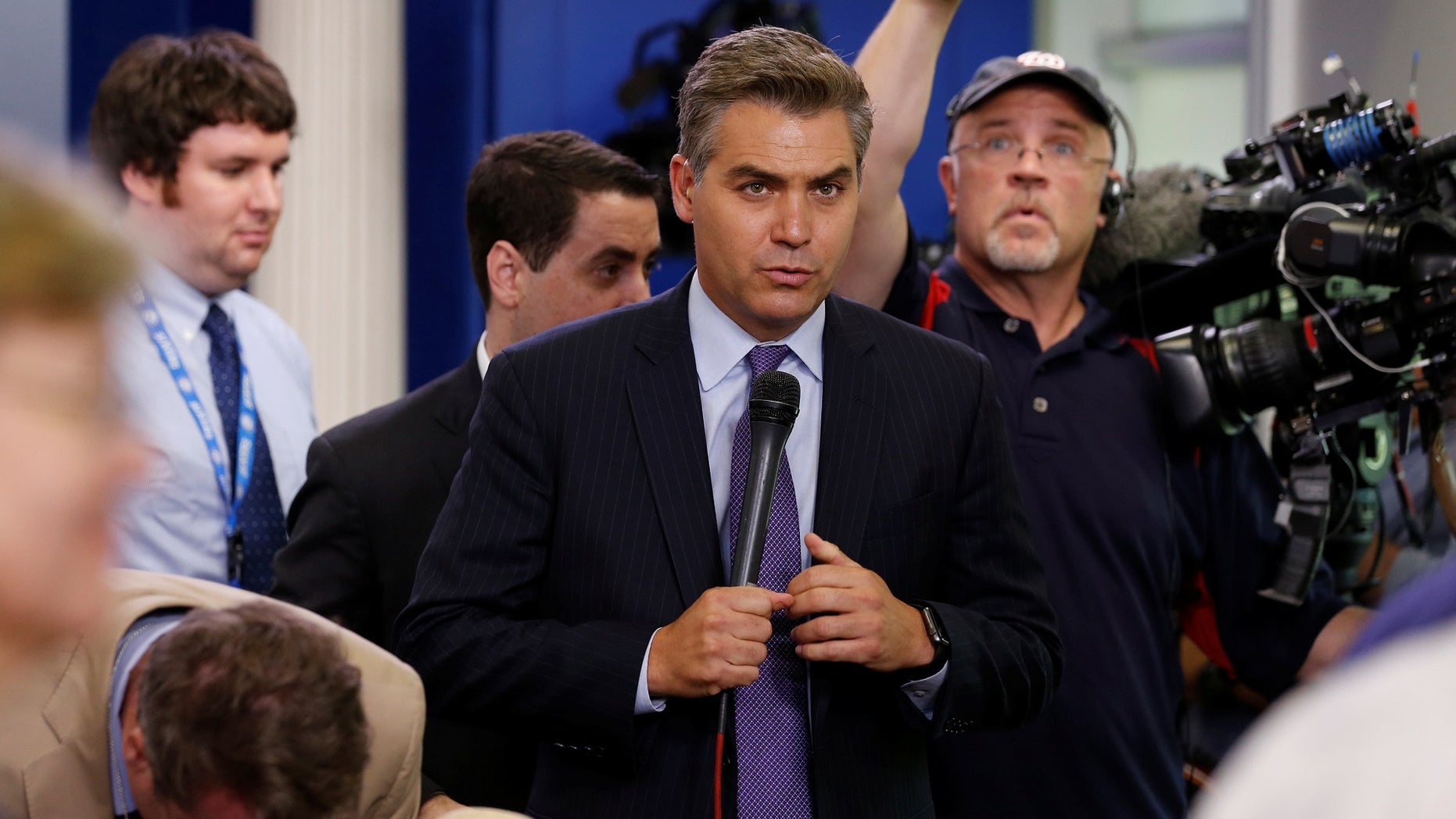 CNN star reporter Jim Acosta is doing damage control after he was accused of taking personal shots at Trump supporters in a recent interview with Variety when he said "their elevator might not hit all floors."
Acosta, who has emerged as a key member of the anti-Trump media, took to Twitter to defend his comments that he claims were "twisted by some outlets."
Acosta made the comments during a panel discussion with fellow White House correspondents April Ryan and Ashley Parker about what it's like to cover the Trump administration and the president's habit of referring to certain media outlets as fake news.
"The problem is that people around the country don't know it's an act. They're not in on the act and they take what he says very seriously. They take attacks from Sean Spicer and Sarah Sanders, and what they do to us on a daily basis, very seriously," Acosta said. "They don't have all their faculties and in some cases their elevator might not hit all floors."
"They don't have all their faculties and in some cases their elevator might not hit all floors."
While many people assumed Acosta was taking a shot at Trump supporters, he said he was referring to "people who threaten journalists."
The Washington Times headline on the story said, "Jim Acosta says voters too stupid to grasp Trump 'act': 'Their elevator might not hit all floors,'" while The Daily Caller wrote that Acosta said Americans don't have all their faculties. Several other news organizations, including The Blaze, took offense at Acosta's comments.
Spicer himself told Fox News that Acosta's remarks show a lack of understanding of what is happening in the country. The former press secretary said it's important for people to understand why Trump is addressing the concerns of people living in rural environments.
"For Jim not to understand that, and for him to continue to dismiss -- and quite frankly make fun of and ridicule -- people around this country is really sad," Spicer said, adding that it's the kind of comments one expects to hear from a liberal activist, not a journalist.
"Regarding my interview with Variety, my comments have been twisted by some outlets," Acosta tweeted on Wednesday. "As you can plainly see, I'm not referring to Trump supporters. I am talking about people who threaten journalists."
"As you can plainly see, I'm not referring to Trump supporters."
Variety senior editor Ted Johnson conducted the interview.
Earlier this month, Trump's 2020 campaign manager Brad Parscale called for Acosta to lose his credentials after he shouted questions as Trump colored with young children at the White House Easter Egg Roll. "He continues to embarrass himself and CNN," Parscale said.
Earlier this year, Trump kicked the CNN star out of the Oval Office after Acosta badgered the president with racially charged questions. Acosta has made a habit of grandstanding and interrupting when Trump and members of his administration are available to the media. He has been among the most outspoken critics of President Trump and is a significant part of CNN Worldwide President Jeff Zucker's apparent anti-Trump programming strategy.
Trump has famously dubbed CNN "fake news" and pointed directly at Acosta, calling him by the disparaging moniker in the past. Last December, Acosta was shut down by Sanders when he tried to hijack a press briefing. Acosta told Sanders that journalists make "honest mistakes" but that doesn't make them "fake news" before attempting a question. Sanders quickly cut him off.
Acosta has also gotten into combative arguments with other members of the administration including Spicer, Management and Budget Director Mick Mulvaney and Senior Policy Adviser Stephen Miller.