CNN slammed for glowing puff piece about Kim Jong Un's sister at Olympics
CNN is getting dragged online for writing a glowing puff piece about North Korean leader Kim Jong Un's sister appearing at the Olympics in Pyeongchang, South Korea — with a headline claiming she was "stealing the show."
The article, published Saturday afternoon, began with these cooing words about the woman who gave South Korean President Moon Jae-in an invite to visit North Korea:
"If 'diplomatic dance' were an event at the Winter Olympics, Kim Jong Un's younger sister would be favored to win gold. With a smile, a handshake and a warm message in South Korea's presidential guest book, Kim Yo Jong has struck a chord with the public just one day into the PyeongChang Games."
It barely referenced the North Korean regime's murderous ways -- and critics called out CNN for it. Still, despite the almost-immediate backlash from people on both sides of the political aisle, CNN has not taken down its story.
When Fox News reached out for comment, CNN would not say whether it would remove the story or discipline any editors over the controversial article.
CNN anchor Chris Cuomo defended his left-leaning network by throwing in a dig at President Donald Trump. He tweeted to one reader, "You don't think having a President who lies about what is 'fake' and actively maligns the free press out of convenience is a bigger reason for animosity toward us than how some decide to cover this?"
He also bashed a Reuters story on Kim Yo Jong, writing, "This is a murderous regime that is stifling a population. Progress has to be evidenced by a lot more than this no?"
Jonathan Chait, writer for New York magazine, mockingly cheered the CNN piece: "Also stealing her country's meager wealth to live in opulence while they starve. But doing it in style. You go, girl!"
Conservative commentator Michelle Malkin chimed in, tweeting: "Next up: An EXCLUSIVE @CNN investigative report on Kim Jong Un's sister's workout playlist, favorite boba tea flavors, and nighttime skin care routine. #SLAYGIRLFRIEND"
Fox News' Brit Hume tweeted: "Does this puff piece mean she's gotten over her dictator brother's murder of her other brother?"
Speaking for the millennial audience, David Mack of BuzzFeed tweeted: "yasss kweeen! werk it as you oppress your people! gettttt that crime against humanity, gurlllll!"
The CNN piece did mention at one point that Kim Yo Jong's brother, the North Korean Supreme Leader, "has ruled with an iron fist since coming to power," running prison camps and killing senior officers to preserve his power.
The article did not mention the reign of terror brought about by their father, Kim Jong Il.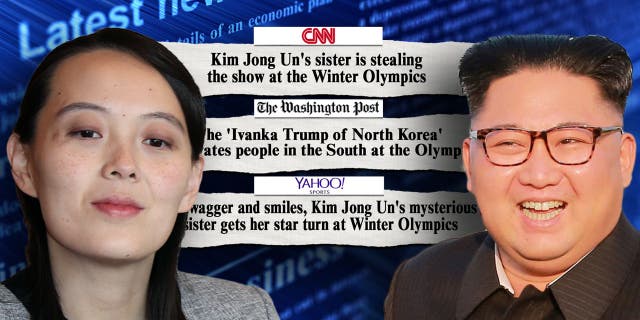 The New York Times put out a story of its own about Kim Yo Jong on Sunday. It included quotes from multiple critics slamming the dictatorship.
Kim Yo Jong, 30, is an increasingly prominent figure in her brother's government and the first member of the North's ruling family to visit the South since the end of the 1950-53 Korean War. The North Korean delegation to the Olympics in Pyeongchang also included the country's 90-year-old head of state, Kim Yong Nam.
In dispatching the highest level of government officials the North has ever sent to the South, Kim Jong Un revealed a sense of urgency to break out of deep diplomatic isolation in the face of toughening sanctions over his nuclear program.
"Honestly, I didn't know I would come here so suddenly. I thought things would be strange and very different, but I found a lot of things being similar," Kim said while proposing a toast at Sunday's dinner, according to the office of South Korean President Moon Jae-in. "Here's to hoping that we could see the pleasant people (of the South) again in Pyeongchang and bring closer the future where we are one again."
The Associated Press contributed to this report.