CNN anchor slammed over questions suggesting Trump campaign-MS-13 parallel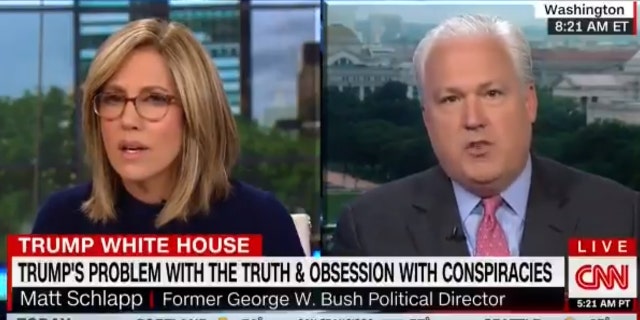 NEWYou can now listen to Fox News articles!
CNN anchor Alisyn Camerota was slammed by conservative Twitter users Saturday when she tried to draw parallels between the idea of FBI informants in the brutal gang MS-13 and President Donald Trump's claim that his campaign was spied on.
"You believe that the FBI planted a spy in the Trump campaign. Are you using the term informant and spy interchangeably?" Camerota, a former Fox News co-host, asked Matt Schlapp, formerly President George W. Bush's political director.
"When the FBI uses a source in MS-13 to find out what they're doing is that a spy or a source, an informant to figure out what MS-13 is doing?" she continued.
"Look if you're going to equate, I would call it spying," Shlapp fired back. "And here's the big difference, Donald Trump is not MS-13, Alisyn."
Twitter users were outraged by what they viewed as an effort to conflate the two.
The mainstream media has been called out in the past for targeting Trump and sympathizing with MS-13.
Trump was asked about the brutal gang recently by Fresno County Sheriff Margaret Mims when addressing California sanctuary city laws. Mims specifically said, "There could be an MS-13 gang member I know about, if they don't reach a certain threshold, I cannot tell ICE about them."
The president responded: "You wouldn't believe how bad these people are. These aren't people, these are animals, and we're taking them out of the country at a level and at a rate that's never happened before."
While Trump was clearly talking about MS-13, which is responsible for some of the grisliest murders in recent memory, several left-leaning news organizations decided to share the president's response without key context. Watchdogs called them out on social media for misinterpreting the remarks.
C-SPAN tweeted a video that did not show Mims' comment, editing down the conversation with Trump's answer and the caption: "President Trump during California #SanctuaryCities Roundtable: 'These aren't people. These are animals.'" The video has been viewed more than 2.6 million times in less than 24 hours.
The New York Times, ABC News, NBC News, CBS News and CNN all followed with similar tweets – with most of the content coming after it was well publicized that Trump was specifically referring to MS-13 gang members.