Charlize Theron 'fuming' over Kristen Stewart's affair with director of their movie, report says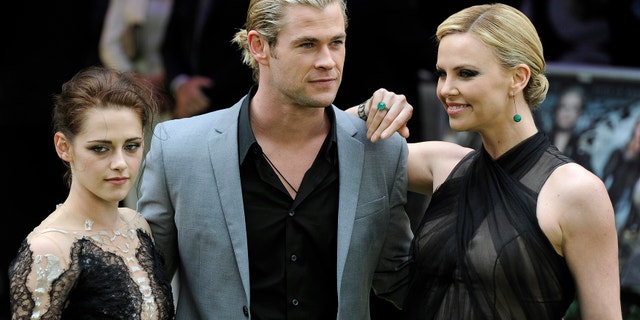 Fallout from the Kristen Stewart/Rupert Sanders affair bombshell has started to drift over Hollywood.
"Snow White and the Huntsman" star Charlize Theron is furious with both the film's director and co-star, RadarOnline.com reports.
"Charlize is absolutely fuming with Kristen for having an affair with Rupert," an insider told the website. "She is very tight with Liberty, has often socialized with the family over dinner, and cannot believe Kristin has done this."
Liberty Ross, Sanders' wife, also starred in the film as Kristen Stewart's (Snow White) mom.
Sanders and Ross have two young children.
The source said the cheating scandal puts Theron in an "difficult position."
That difficult position also has career ramifications, as there is a studio option for a sequel to the successful fantasy film, an option that may now not be exercised thanks to the scandal involving two if its stars and its director.
Meanwhile, Stewart's longtime boyfriend and "Twilight" co-star Robert Pattinson is said to have moved out of the home he shares with her, and is "heartbroken and humiliated" after her shocking admission that she slept with Sanders, according to People magazine. After Us magazine obtained photos of her kissing Sanders, Stewart issued an apology.
"I am deeply sorry for the hurt and embarrassment I've caused to those close to me and everyone this has affected," Stewart, who has been dating her "Twilight" co-star Rob Pattinson for several years, said in a statement. "This momentary indiscretion has jeopardized the most important thing in my life, the person I love and respect the most, Rob. I love him, I love him, I'm so sorry."
Pattinson and Stewart were reportedly seen fighting backstage at the Teen Choice Awards Sunday night, just days after Stewart, 22, and Sanders, 41, were snapped in their steamy rendezvous.
"Rob and Kristen were having a long and intense conversation backstage, and he looked miserable, heartbroken and humiliated. She was pleading," a source told Page Six.
Another source reportedly told the paper that Stewart "begged" a photographer not to publish the pictures that were obtained of her "indiscretion." She was then was forced to own up to Rob late last week.
"Rob is deeply in love with Kristen and is very jealous when other men hit on her. This will crush him," the source told the Post.
Meanwhile, Ross reportedly took to social media to share her thoughts in a series of cryptic messages.
She reportedly tweeted "wow" and the Marilyn Monroe quote "sometimes bad things fall apart so better things can fall together." She later deleted her account.
Just weeks before the scandal broke, she said in an interview with YOU Magazine that she had been through major challenges with her husband.
"I romanticized domesticity for a while, and loved having a shopping list of groceries stuck to the fridge for the first time," Ross said. "But moving here and starting a life all over again was a lot harder than I had anticipated. I just didn't think it would be as isolating and daunting as it turned out to be."

"I would never say out loud that I am raising my children alone, but a lot of the time it has felt like that," she added. "I went from the glamour of working with Karl Lagerfeld and John Galliano to living on an isolated hilltop, with my husband gone most of the time."
Sanders also issued an apology to People magazine Wednesday, saying:
"I am utterly distraught about the pain I have caused my family," the English director told Us. "My beautiful wife and heavenly children are all I have in this world. I love them with all my heart. I am praying that we can get through this together."