Carrie Underwood, Jamey Johnson Win Country Music Awards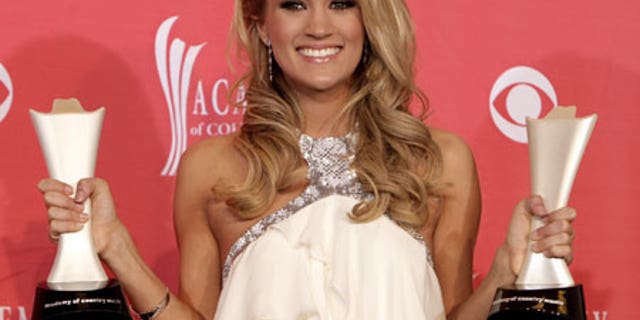 LAS VEGAS – The women of country have taken the wheel.
Carrie Underwood captured entertainer of the year Sunday night at the Academy of Country Music Awards, winning the top honor that has eluded women for nearly a decade, while Taylor Swift won album of the year and Julianne Hough snagged top new artist.
Country music's boys' club was adjourned for the year when Underwood broke Kenny Chesney's four-year win streak and became the first woman to hold the title since the Dixie Chicks in 2000. The significance wasn't lost on the 26-year-old superstar.
"I accepted that award on behalf of myself and my fans, but also on behalf of other women who came before me that kicked butt but never got the recognition they deserved," Underwood said. "I can't wait (for) the day, which I hope is in the very near future, where having females in the category is no big deal whatsoever."
PHOTOS: Click here to see photos of the red carpet.
In 39 years of recognizing a top entertainer, the academy has granted the honor to a woman seven times, including Underwood. The others were Loretta Lynn, Dolly Parton, Barbara Mandrell, Reba McEntire, Shania Twain and the Dixie Chicks. Each won once.
Chesney, who missed the chance to tie Alabama for most entertainer of the year awards, kissed Underwood as she walked up to accept the honor.
"He told me he was proud of me," said Underwood, who's enjoyed astounding success since winning "American Idol" in 2005 with eight No. 1 country hits including the signature single, "Jesus Take the Wheel."
Swift, another woman dominating not only country music but the entire industry, won album of the year for her sophomore disc "Fearless." Both of Swift's albums have topped the 3 million mark — a rare feat today. She's connected with fans both young and old for her intensely personal songs, which she writes usually on her own or with a co-writer.
Backstage, Swift told reporter that she "obsessed" over making "Fearless."
"I labored over this album for two years," she said. "The fact that you can write songs in your bedroom about your feelings and boys and can win album of the year at the ACMs. I just didn't think that was possible."
Swift, who had four nominations going into Sunday's show, also got a special honor as McEntire presented her with an ACM Crystal Milestone Award for bringing so many young people to country music.
A tearful Hough, who added country singer to her "Dancing with the Stars" credentials, thanked "everybody that has followed me from the beginning and believed in me." She bested Jake Owen and the Zac Brown Band for the honor.
Other winners included Jamey Johnson, Sugarland, Trace Adkins and Brad Paisley, but the evening's most memorable moments came during the performances.
Adkins performed "'Til the Last Shot's Fired," a somber salute to U.S. troops, with the West Point Glee Club in honor of servicemen and women. The performance was introduced by Lt. Andrew Kinard, who had been wounded. He told the crowd, "As you listen to this song, please consider that it's not about the war, it's about the warrior."
John Rich's angry anthem "Shuttin' Detroit Down" also stirred the crowd.
"I'd like to dedicate this song tonight to all the hard-working, taxpaying Americans from coast to coast who love this country as much as I do," Rich said while holding a guitar tagged with a "Made in the U.S.A." sticker.
"We wrote this song specifically for you," he said before launching into his searing song that feeds into taxpayer resentment about the bailouts on Wall Street.
Other performances included teen sensation Miley Cyrus, dancing atop a high staircase on stage; Heidi Newfield singing "Johnny and June," inspired by the late Johnny Cash and June Carter Cash, around an appropriate ring of fire; and Underwood in a burgundy dress so overwhelming that it took up most of the stage.
"Can I borrow that?" host Reba McEntire quipped afterward.
Newcomer Johnson beat out veterans like George Strait and Paisley in nabbing the night's first honor, song of the year for his poignant hit about an old man looking back on his life, "In Color."
"Thanks to my band for going in on an off day and producing an off record," Johnson quipped in a brief acceptance speech.
Adkins won single of the year for his heartfelt hit "You're Gonna Miss This." The deep-voiced singer said the song, about how people want to grow up and move on with life when they should slow down and enjoy the moment more, was very personal to him, but he didn't think others would relate to it. When his label said they were going to release it as a single, he said, "Go ahead. Nobody's going play it."
"I'm glad I'm an idiot," Adkins cracked. "Thank you very much."
Sugarland broke Brooks & Dunn's lock on the vocal duo award, and lead singer Jennifer Nettles received an ACM Crystal Milestone Award for her songwriting.
Strait and Paisley led all nominees with six. Paisley was linked up by video from Nashville, where his wife Kimberly Williams-Paisley is expecting their second child, and accepted the trophy for male vocalist of the year from there.
"I wish I could be there but I didn't want to take the chance of missing the birth of our next child. I hope you understand," said Paisley, who also won video of the year for "Waitin' on a Woman" and vocal event of the year for "Start a Band," his guitar-slinging duet with Keith Urban.
Jamie Foxx introduced Strait's performance of "Troubadour," and joked that the country scene was getting more diverse.
"Things are changing," Foxx said, mentioning his repeat appearance at the ACMs and Darius Rucker's success on the country charts. "(An) African-American singing country. Things are changing. Got a black man running the country. Things are changing. ... I mean what's next, white people going to Tyler Perry movies?"
The show aired live from the MGM Grand on CBS