Carol Burnett gets candid about her daughter's death: 'I didn't want to get out of bed for a while'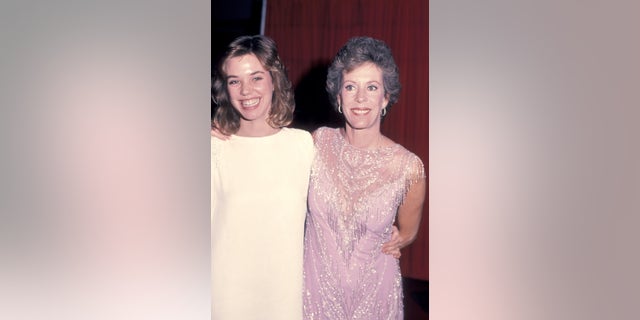 Comedy legend Carol Burnett suffered a painful tragedy in 2002 when her daughter Carrie Hamilton died at age 38.
The actress/singer, who starred in the 1980's movie "Fame" and occasionally worked with her famous mother, passed away from cancer that had started in her lungs and ultimately spread to her brain.
VINTAGE HOLLYWOOD FLASHBACK: THE GOLDEN GLOBES IN THE '50S, '60S & '70S
"I think of her every day," the 85-year-old admitted to People Magazine Wednesday. "She never leaves me. I just feel her."
Burnett is keeping busy these days starring in the Netflix series "A Little Help With Carol Burnett," which features the star and a panel of children giving advice to adults.
Burnett said Hamilton was constantly on her mind while filming the show.
"She was very interested in people," explained Burnett. "She never met a stranger. I think it's in our genes… [knowing] you can make somebody's day by being kind.
"She also loved to write. One time she was in New York and it was the winter, and homeless people would come up and ask for money. She would say, 'I'll give you $10 if you tell me your story.' She would collect those stories and write about them."
But Burnett's relationship with Hamilton wasn't always blissful. As a teenager, Hamilton struggled with drug addiction and alcoholism.
"She got sober when she was 17," said Burnett. "I put her in a third rehab place, and oh my God, she hated me.
"I came to the conclusion that I had to love her enough to let her hate me. She got sober and we started bonding. We wound up working together, writing a play together. We worked together in three shows."
The love they shared for each other endured. Burnett revealed losing Hamilton is a loss she will feel for the rest of her life.
"You don't get over it, but you cope," said Burnett. "What else can you do? When Carrie died, I didn't want to get out of bed for a while, but I had a play to finish that we started that Hal Prince was going to direct. I owed it to Carrie, and I owed it to Hal."
Burnett also revealed that at the time of the play, she felt her daughter's presence, ensuring her she made the right decision.
"I got on a plane and said a little prayer to Carrie, and said, 'I've got to do this alone,'" she recalled. "'Don't leave me alone. Give me a sign that you're with me.'"
Burnett claimed that when she got off the plane and checked into her hotel, she spotted a bouquet of birds of paradise flowers waiting for her.
"That was Carrie's favorite flower," she said. "She had one tattooed on her right shoulder. Then at dinner the maître d' gave us a bottle of champagne, and the label said 'Louise.' That was Carrie's middle name. Then it rained on opening night. Carrie and I were nuts for the rain."
During her short life, Hamilton was able to successfully make her mark in Hollywood, with guest roles in hit shows such as "Murder She Wrote" and "Beverly Hills 90210."
Hamilton, whose father was late producer Joe Hamilton, also collaborated with her mother on a stage version of Burnett's best-selling memoir "One More Time.
She would go on to star as Maureen in the first national touring version of the musical "Rent," as well as direct short films. In 2001, she won "The Women in Film Award" for her movie "Lunchtime Thomas."