Carlos Vives makes a dream come true for 4-year-old cancer patient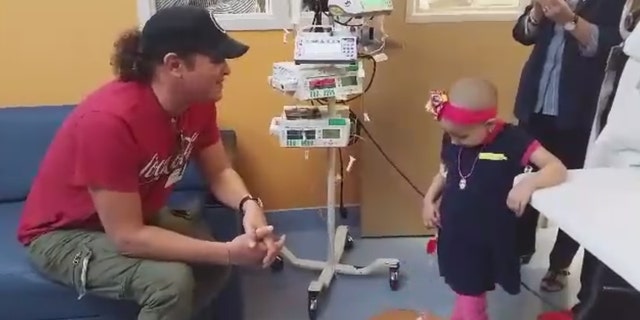 Carlos Vives has a lot of fans around the world, but Salma Richani is a special one.
She is a 4-year-old girl from Maracaibo, Venezuela, who has been battling with cancer for more than a year. She is currently in treatment at a hospital in Miami.
Every morning – and after every treatment – she wakes up to one of her favorite songs from her favorite singer: Vives.
Her father Kaled Richani, an urologist in Venezuela, made a video of his daughter singing Vives' "Volvi a nacer" ("I Was Born Again") and uploaded it on online.
Kaled Richani told the Venezuelan newspaper Diario La Verdad that one of his followers on Instagram mentioned the singer's account and from there it just grew.
"I wrote a message and little by little thousands of people joined," he said in Spanish. "Salma was everywhere; I was getting tons of mentions. It was incredible. Venezuelan artists joined in and thanks to them and all the public we were able to accomplish it."
It got Vives' attention, who then posted a message on Instagram, saying "I have a lot of friends who have said, 'Please, you have to see this artist who is singing your songs, she's incredible.' I went out to look for you … you are the most beautiful. Thank you for singing my songs."
He promised to meet with Salma and he honored his word this past weekend.
Richani told the Venezuelan newspaper that the singer's manager contacted them and while he had to consult with her doctors about the visit – because in a few weeks they will be performing a transplant – it was a "done deal."
Over the weekend, Salma's dream of meeting her favorite singer was made a reality.
The Colombian singer, accompanied by his wife Helena, visited the young girl in Miami. The highlight of the visit was Vives and Salma singing a short duet of his song "Volví a nacer."
Vives and Richani both posted a video of the visit online.
"Thank you #SalmaRichani, Elizabeth, Kaled Jr and Kamilita we are happy with your friendship and Salma is pure life," Vives posted on Instagram.
Follow us on twitter.com/foxnewslatino
Like us at facebook.com/foxnewslatino