Busy Philips livid after being mistaken for Sarah Sanders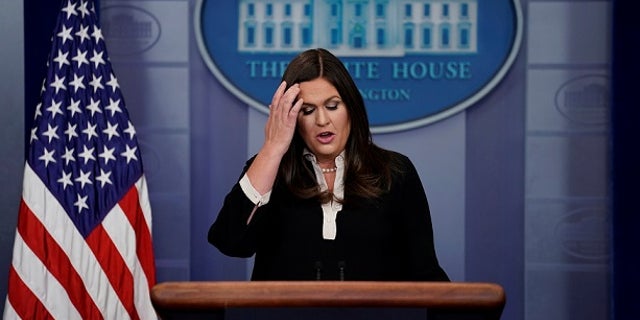 Busy Philips was not happy to see the leader of a coalition fighting against President Trump mistaking her for White House press secretary Sarah Sanders in a tweet.
Jon Cooper, chairman of The Democratic Coalition, tweeted an image of Philips on Thursday and wrote "Sarah Huckabee Sanders even looked habitually pissed when she was a teenager! I guess having Mike Huckabee as your dad does that to you."
GLENN CLOSE RECALLS 'HORRIBLE' CLOSE CALLS WITH THE CASTING COUCH: 'IT WAS DEMEANING'
The photo was of Philips from the 1999 television show "Freaks and Geeks."
Philips, 38, attempted to set the record straight with a sequence of tweets Thursday.
"ARE YOU F------G KIDDING ME? IS THIS A JOKE? THIS IS ME FROM FREAKS AND GEEKS. FAKE NEWS," Philips wrote. "ALSO I LOOK NOTHING LIKE SARAH HUCKABEE SANDERS. WHAT IN THE ACTUAL -?!?????!!!!! I AM NEVER GETTING OVER THIS. I AM ACTUALLY DEAD NOW."
A social media user tweeted at Philips saying Cooper was a fan of hers. The actress shot back "APPARENTLY NOT SINCE HE THINKS IM SARAH HUCKABEE SANDERS."
FLOYD MAYWEATHER CALLS TRUMP 'REAL MAN' FOR ACCESS HOLLYWOOD TAPE COMMENTS
"Pick on a woman for the insane lies she tells. Not cause she looks pissed off while telling them. I love women who look pissed off," Philips concluded.
Cooper deleted the tweet after learning his mistake and wrote an apology.
"I deleted this tweet after I found out the pic wasn't Sanders but rather an actress w/ a huge fan base (who now all HATE me, lol)," Cooper said. "My bad!"
"My advice: Just because a Google search identifies an image as being a certain person, take that with a grain of salt! It could be wrong."
Philips later retweeted an Entertainment Weekly article written about the photo mix-up.