Brooke Burke-Charvet says she's 'grown up' from her sex symbol days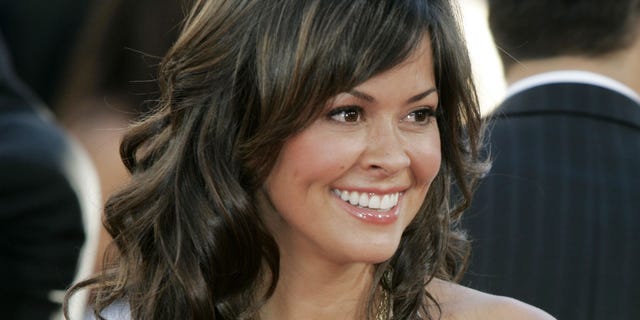 Fitness guru, dancer, model and mom Brooke Burke-Charvet has a lot on her plate with her new role on "The Celebrity Apprentice."

She told Fox News the NBC show has been a "learning experience." Recently, the show has drawn extra attention as Arnold Schwarzenegger has taken over as host in place of the former host, now-President Donald Trump.
"I think it's been a little bit of a funky time politically, but if everyone could remember and focus on the reason we do shows like that — it's not about Arnold or Trump or any of the celebrities really it's about raising money for charity," she said.
Burke-Charvet said the reason she signed on for the series was to bring awareness to her choice charity, Operation Smile.

"But it was awesome being challenged in the business world to do tasks and figure out how to market and brand a variety of products is such a cerebral grind for me and fun," she said.
When she's not taping "Celebrity Apprentice," you can find the star in the gym.
She is known for posting some seriously sexy Instagram snaps, but Burke-Charvet said her sex symbol days are behind her.
"... I've grown up," she said of her sexy image. "There is so much more to it. I started my career out in that space and I think I've evolved and I feel good in my skin in my 40s. I think it's about taking care of myself and letting myself be as equally important as everyone else in my family. And I hope that what I do in the health and wellness space inspires women."
The dancer has a Booty Burn class that she's recently brought from Malibu to New York City.
The model teamed up with Poise to focus on teaching women to "engage core muscles and pelvic muscles better for the overall health."
"I think it's a very delicate subject matter so I was happy to get on board and open up the dialogue between women about LBL (light bladder leakage)," she said. "I was very surprised to learn one out of 3 women are dealing with this."
The mom of four said she likes living a "simple life" at home with her family.
"... Living in Hollywood and working in the industry and having a daughter who is dabbling in it herself, I try to teach them about things that are more important. I am very philanthropic and I involve them in a lot of those areas. I think it's little things like that that keep them grounded. We spend a lot of time together as a family, they know what I do for a living is just my job and it doesn't define who I am."
"The Celebrity Apprentice" airs Monday nights on NBC.