Brandy Proclaims She Is on 'Team Bristol,' Slams Kathy Griffin and Howard Stern 'Fat' Jokes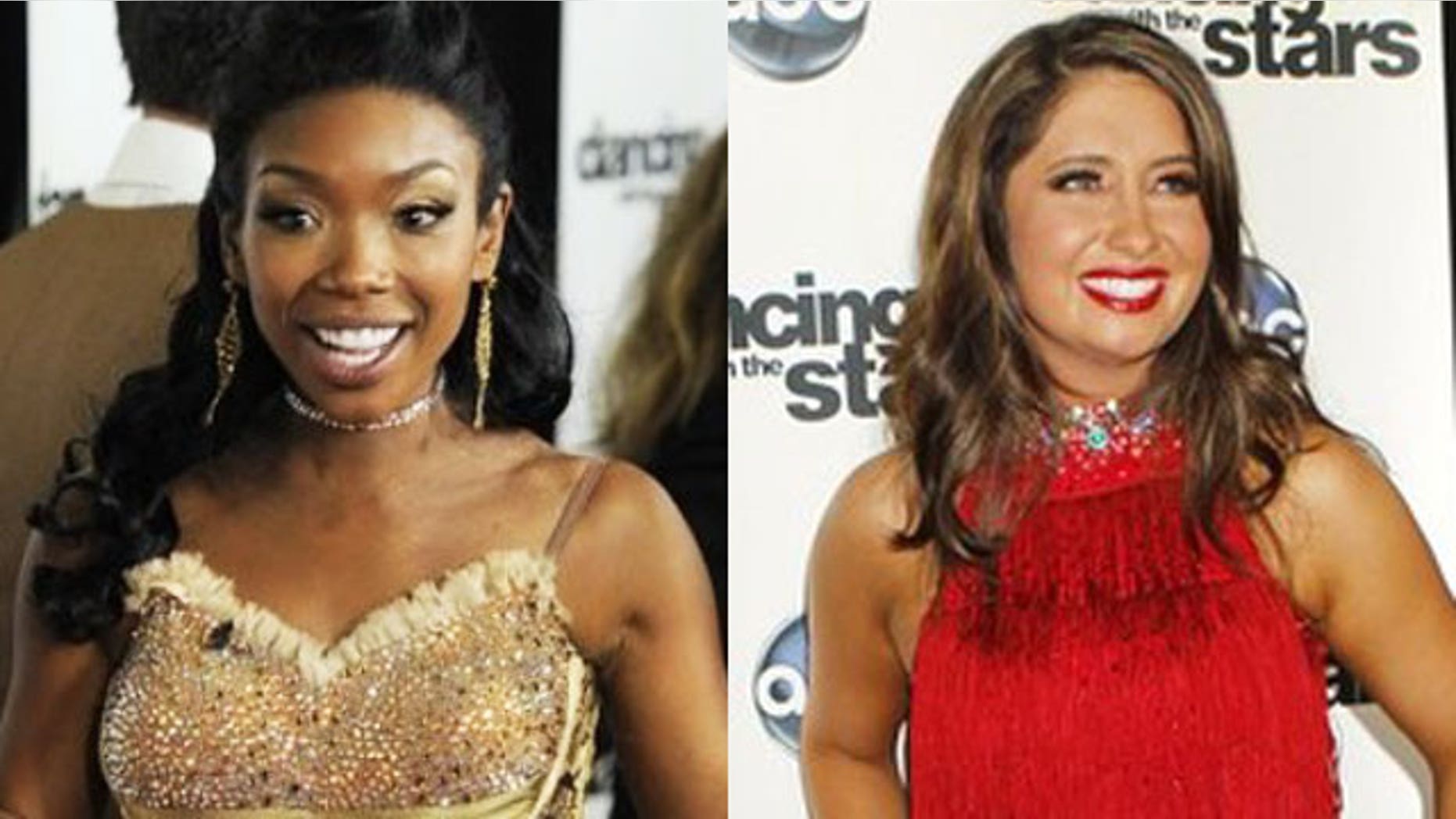 After it was revealed that Bristol Palin made it through to the finals of "Dancing With the Stars" late last year, shock jock radio host Howard Stern went on quite the rampage, announcing that she "is the first contestant in the history of the hit ABC show to get fatter as the show goes on," and that she "must be eating everything in sight."
Comedienne Kathy Griffin also jumped on the Palin "fat" attack while hosting VH1's "Salute to the Troops" last month, mocking the 20-year-old for gaining "30 pounds per week" during the show and referring to her as the obese "white Precious."
Amused? Well, one person who certainly wasn't laughing was Palin's dancing competitor, Brandy Norwood.
"It offends me (when I hear people talking about Bristol's weight like that.) and sometimes the media can be a little harsh on celebrities and forget that they're people just like everyone else," Norwood told FOX411's Pop Tarts while promoting the second season of her VH1 reality show "Brandy and Ray J: Family Business," which explores the personal and professional challenges the siblings face as they expand their personal and professional empires. "She shouldn't be treated unfairly. I'm 'Team Bristol.' You won't ever catch me saying anything negative about Bristol."
Despite Norwood's critical appraisal for her dancing skills and stream of high scores, she was beaten for a coveted spot in the "DWTS" finals by Palin. However, there are certainly no hard feelings and Norwood isn't echoing the public outcry that Palin didn't deserve such success simply because the judges weren't giving her the numbers.
"It's not just a dance competition. It really is about America getting behind you and voting for you, and with Bristol, as well as everyone else, they really gave it their all no matter who was better and who wasn't," Brandy said. "Bristol had never been on stage in her life, never ever.  So imagine, just getting out there and doing what she did – it is amazing. She is too young to even go to clubs, to even get that experience, and I was nervous and scared so imagine how she must have felt."
Apparently the 31-year-old even scheduled a play date with Palin and her R&B brother, Ray-J.
"I used to always tease her about being so shy and not talking. She would always have her phone, and I would say, 'Bristol, you don't even need a phone because you never talk!' We would always work on our facial expressions together for the attitude of dancing and we were supposed to hang out, her, my brother, her friends.
" It was just one of those things where you feel a connection and you don't know why but you just feel a comfort," Norwood continued. "I felt like I was her big sister. She used to always call me her 'favorite' and I would say the same thing to her."
And just as Palin is likely finding her life in the public limelight full with trials and tribulations, Norwood too has experienced the ups and downs having transitioned from child star into business mogul.
"The biggest challenge has been to develop a sense of self while identifying with an image that comes along with fame. That was the hardest part for me when I was younger,  because I didn't know who I was, I identified with the image of who I was and the fame and that wasn't the real me. So I had to step back and get in touch with my inner-person and go from there," she said.
"That was very hard to walk away from everything I had accomplished but I had to do it in order to get a sense of who I was and to be that example for my daughter and then to want it all over again with a sense of who I am. It was a struggle but it was something I had to go through and I'm happy that I came through it and I know who I am."
And speaking of her young one, Norwood insisted that parenting has been her true saving grace.
"I love my daughter, she keeps me on my toes and she is the greatest gift God could have ever given me because I'm telling you this little girl is a lifesaver," Norwood added. "She brings sunshine to my life and with children, they don't hold anything against you, they don't judge you, or any of that and they love you unconditionally and I love her so much."
Deidre Behar contributed to this report