Brad Pitt's foundation sues architect over Hurricane Katrina homes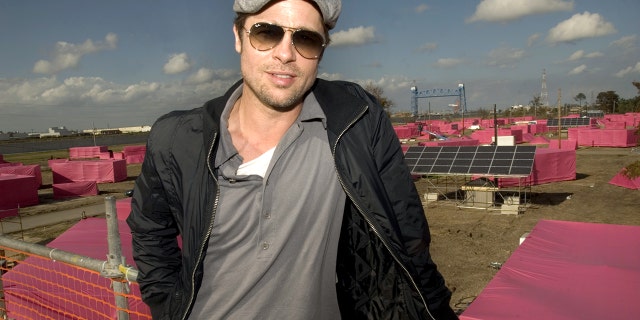 Brad Pitt's foundation, Make It Right, is suing a New Orleans architect in a lawsuit filed Tuesday, claiming defective design work ultimately led to leaks and other flaws in homes built for residents after Hurricane Katrina.
Make It Right, which was created two years after Hurricane Katrina hit, reportedly paid architect John C. Williams millions of dollars for architectural drawings for more than 100 homes under a program providing Lower 9th Ward residents with sustainable and affordable new houses, according to The Associated Press.
However, the outlet reports that within a year of their completion, the first homes experienced water intrusion, and construction stopped in 2016. (Construction first started in 2008.)
Pitt's foundation claims Williams was responsible for several failures to adequately waterproof the structures, including insufficiently sloped roofs. The lawsuit says Williams' attempts at repairs were largely a failure and that he kept Make It Right management in the dark about the defects.
According to news outlets, the suit alleges that damages caused by Williams could cost Make It Right more than $15 million.
In 2015, Williams was given a permit to replace a flat roof on a 7-year-old home that was leaking, however, it was ultimately torn down at the insistence of neighbors in June, reports The Associated Press. That same month, Williams acknowledged in an interview that one or two of the Make It Right structures "may be falling apart."
Williams didn't immediately return a request for comment, news outlets reported Wednesday.
The lawsuit comes after New Orleans attorney Ron Austin brought a class-action lawsuit against Make It Right that accused the charity of building substandard homes that are deteriorating at a rapid pace. On Tuesday, Make It Right blamed the rapid deterioration on the architect they hired.
The lawsuit against Williams does not hold him liable for the damages to 39 homes caused by the use of an experimental weatherproof wood product called TimberSIL that was rapidly ruined by the south Louisiana environment. In 2014, Make It Right sued the manufacturer of TimberSIL for $500,000, though it's unclear if the company was made to pay.
In a prepared statement, Make It Right pledged to "continue to work proactively with homeowners in the Lower 9th Ward." The non-profit organization declined further comment.
The Associated Press contributed to this report.