Brad Pitt calls Mel Gibson's 'Passion of the Christ' 'propaganda'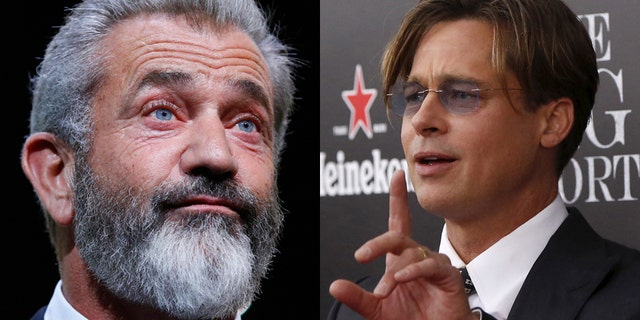 NEWYou can now listen to Fox News articles!
Mel Gibson is in the midst of a career rehabilitation right now thanks to his critically acclaimed work as director of war epic "Hacksaw Ridge" — but it's safe to say Brad Pitt won't be rushing out to see it.
Pitt delivered a swift put-down of Gibson's talents as a filmmaker in a recent interview with the New York Times Style Magazine.
In the interview, Pitt mentions that he'd like to make a film about Pontius Pilate — but he's quick to specify that the film "won't be for the 'Passion' crowd".
He's referencing "The Passion of the Christ," Gibson's controversial but hugely successful 2004 telling of the last 12 hours of Jesus' life. The interviewer responds in kind, saying that watching The Passion of the Christ drove him out of church, to which Pitt laughs.
"I felt like I was just watching an L. Ron Hubbard propaganda film," he says, referring to the Scientology leader and science fiction writer.
Pitt does reserve some praise for Gibson, however: He says the 60-year-old actor and filmmaker, whose other directorial efforts include "Braveheart" and "The Man Without a Face," depicts violence on screen "extremely well" and that his 2006 epic "Apocalypto" is "a great film."
Gibson himself hasn't been shy about speaking his mind about the current state of the film industry while on the publicity trail for "Hacksaw Ridge."
Speaking about "Hacksaw Ridge's" relatively modest budget — around $40 million — Gibson said he couldn't understand how blockbusters could cost hundreds of millions of dollars to make. A budget of more than $200 million, he said, didn't seem worth the investment.
"I look at them and scratch my head. I'm really baffled by it. I think there's a lot of waste, but maybe if I did one of those things with the green screens I'd find out different," he said. "It seems to me that you could do it for less … You're spending outrageous amounts of money, $180 million or more, I don't know how you make it back after the tax man gets you, and after you give half to the exhibitors. What did they spend on 'Batman v Superman' that they're admitting to?" he asked.
"And it's a piece of s--t. I'm not interested in the stuff. Do you know what the difference between real superheroes and comic book superheroes is? Real superheroes didn't wear spandex. So I don't know. Spandex must cost a lot."