Brad Pitt and Angelina Jolie may star in new Ridley Scott film 'The Counselor'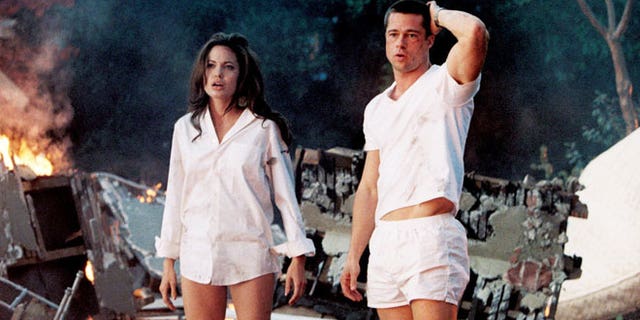 Angelina Jolie and Brad Pitt are close to signing on to star in a movie together, according to reports.
Deadline reported that director Ridley Scott is close to getting the power couple for his film "The Counselor," which will begin production in June.
The Cormac McCarthy-penned thriller would be the couple's first time as costars since "Mr. & Mrs. Smith" in 2005.
Michael Fassbender is already slated to star in the film about a lawyer who attempts to test the world of drug-dealing without getting in too deep.
Angelina Jolie jokes about her Oscar leg.
Javier Bardem, who won an Oscar for his performance in the McCarthy adaptation "No Country for Old Men," is also reportedly close to signing on.
In February, reports surfaced that Scott was looking at Jeremy Renner for a part in the movie. However, Renner no longer appears be attached to the project. Instead, Pitt is the front-runner to play the role of West Ray.
While Jolie's name was not mentioned in earlier casting news for "The Counselor," Deadline claimed Thursday that Scott gained traction with the star as they collaborated on a biopic on historic figure Gertrude Bell.
Angelina Jolie's style evolution.
When Jolie and Pitt began filming "Mr. & Mrs. Smith," Pitt was married to Jennifer Aniston. However, six months before the movie's release in 2005, the two announced their split, and Pitt was quickly linked to Jolie.
The two since confessed that they "fell in love" while making the movie.
If they sign on for "The Counselor," it will mark another reunion, too. Pitt has not been in a Ridley Scott film since his star turn as the cowboy hitchhiker in "Thelma & Louise."
Go to NYPost.com for more Entertainment news.