Ben and Casey Affleck's dad says Hollywood 'has taken a toll on' the brothers
Ben and Casey Affleck's father said Hollywood "has taken a toll on both of my sons" and blamed the industry for Ben's drinking problem.
Timothy Affleck, 74, told Grazia he believed the movie industry played a role in Ben's drinking habit.
"It has taken a toll on both of my sons," the father told Grazia. "Hollywood is a disgusting place. I think that's been a major factor in Ben's drinking. You're kind of forced to develop a persona that is hard to shed and go home to your family. It affects your whole life. I think that's one of the dangers of the film industry."
The senior Affleck believed his actor sons were victims of Hollywood and surrounded by bad press. Ben Affleck, 45, had a very public split from his wife of 10 years, actress Jennifer Garner. Ben Affleck was spotted with his children's nanny, Christine Ouzounian, following the split, which fueled rumors the two were having an affair. He then sought treatment for alcoholism around the time of his divorce with Garner, Glamour reported.
CASEY AFFLECK WON'T PRESENT BEST ACTRESS AWARD AT OSCARS
Timothy Affleck blamed his own battle with alcoholism for Ben's issues with drinking.
"I was a chronic, severe alcoholic for several years," he said. "I had to recover and, happily, I did. Ben has always been serious about getting sober. There is no question about that. He wants a balanced life and he is working at it."
The dad reflected on Ben's divorce and said he told his son "not to dwell on the split."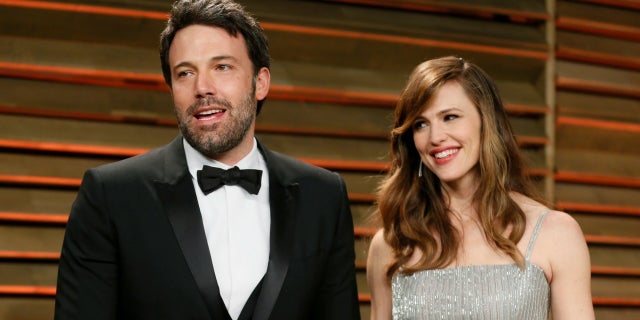 "It's very difficult to balance family life in the midst of global stardom. It's a hard, taxing life," Timothy Affleck said. "'In the world outside of the entertainment industry, marriages end all the time. It's as common as dishwater, it's nothing to dither about."
His other son Casey Affleck, 42, has been embroiled in his own issues. The actor was accused of inappropriate behavior on the set of his 2010 documentary "I'm Still Here." Following this claim, there was negative public reaction when he was nominated for -- and later won -- the Academy Award for Best Actor for his role in "Manchester by the Sea."
As a result, a petition was posted online that called for Casey Affleck to be barred from presenting at this year's Academy Awards. In January, he confirmed he would not be present the Best Actress award.
ARMIE HAMMER APOLOGIZES FOR COMMENTS ABOUT CASEY AFFLECK, SEXUAL ASSAULT
Ben Affleck also came under fire last year after pictures resurfaced of him groping MTV's "Total Request Live" host Hilarie Burton in 2003. He apologized to Burton for the incident.
Timothy Affleck told Grazia he would not comment on the claims but said his sons were "good men" who "treat women well."
"You'd have to ask them," their father said. "It doesn't interest me; they know what they're doing. They're both kind and good men. They treat women well; I can guarantee that. After 40-odd years, you know your kids."
"Both of my sons are hard workers. They have a tremendous amount of empathy, they don't forget where they came from; they're very kind and generous. Those are the qualities that I value."