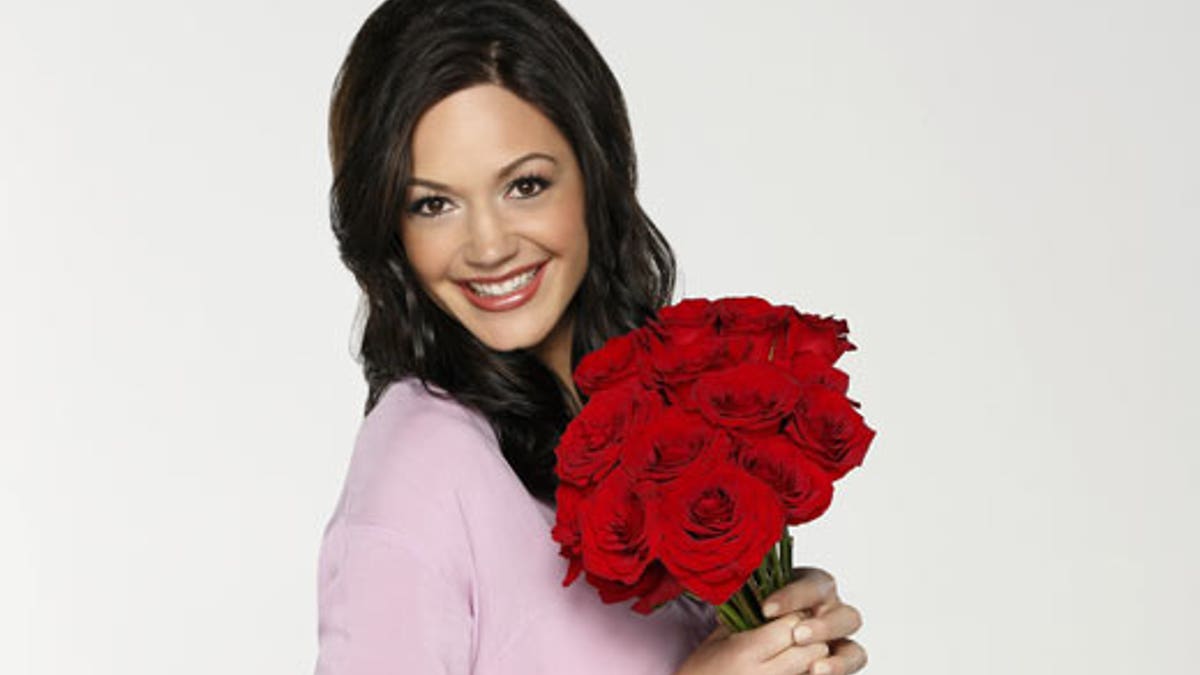 Desiree Hartsock, a 27-year-old bridal stylist, Colorado native, and "Bachelor" fan favorite began her journey as the new "Bachelorette" Monday night.
Desiree or "Des," as she likes to be called, repeatedly expresses her desire to "have her fairytale," and was given her first glimpse of her 25 suitors.
Men rolled up to the Bachelor Malibu mansion bearing chocolate, magic tricks, Twitter hashtags, dance moves, poems and abs. Yes, one guy came shirtless and asked Des to "accept his abs."
Riiiight.
Other guys came with lucky items for Des, like a wishbone and a penny. One chose to forgo the limo and rode up on his motorcycle. One man brought his toddler for the cute factor. And one dude showed up dressed as a knight in a full suit of armor for…for reasons nobody knows.
In an opening testimonial, Des described her failed relationship last season with "Bachelor" Sean Lowe as "natural" and seemingly perfect.
"I was devastated," she said of his decision to send her home after visiting her hometown with four women remaining. "But I know that love is out there no matter what. I can only hope my Prince Charming is one of these men."
Similarly to Sean, Des is very liberal with the roses, handing out several of them hours before the rose ceremony even began.
One of the recipients is Ben Scott, the guy who brought his son, Brody.
"I connected with him," Des gushed about the Texas entrepreneur. "He just seems like such a sweet guy and I saw that we have a lot in common. He's husband material!"
Another one of the lucky men is Bryden Vukasin, a soldier from Montana who wows Des with a story about connecting with an Iraqi child he met while deployed.
Des also dished out a rose to Drew Kenney, a guy she finds adorable due to his extreme nervousness.
Even ab guy, Zak Waddell, gets a rose for being bold, or whatever, by showing up topless and then jumping into the pool. We'll see how long he sticks around.
The strangest moment of the premiere came when Jonathan Vollinger gave Des the key to the Fantasy Suite upon meeting her in front of the mansion. The move appeared to be a harmless—yet was incredibly awkward—a joke gone wrong until Jonathan repeatedly tried to get Des to go through a dark hallway with him into a makeshift Fantasy Suite he created himself with candles and pillows.
Creepy much?
Des wasn't having it.
"You're making me very uncomfortable," she says after giving him one too many chances. "I'm not going to wait until the rose ceremony. I'm going to go ahead and ask you to leave."
And with that, the promising "Bachelorette" villain was quickly sent home.
"I am not that type of girl," Des said visibly annoyed after showing Jonathan the door. "I don't want to go to a dark room with him."
But don't fear, "Bachelorette" fans. There are absolutely more villains to come. A five minute teaser for the season that aired at the end of the episode showed men arguing, crying and even throwing punches.
How will Des handle the drama? If her handling of Creepy Fantasy Suite Guy is any indication, she is not going to put up with it.
"I think Des set the tone tonight for how she wants to be treated," host Chris Harrison told the guys at the rose ceremony.
And with that, 25 guys become 19 and season nine of the "The Bachelorette" is underway! And as Kasey Stewart, the contestant who only speaks in hashtags would say, it is bound to be #interesting.