Azealia Banks, Russell Crowe reportedly clash at hotel bash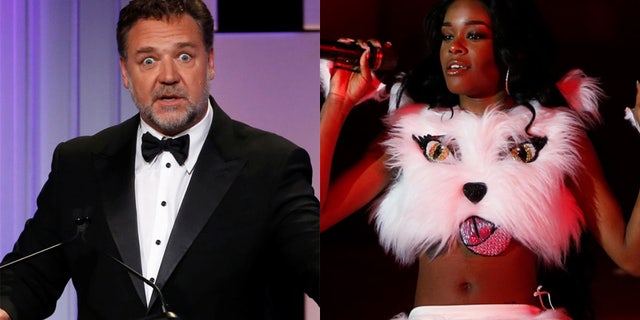 Rapper Azealia Banks reportedly wound up at an intimate gathering hosted by Russell Crowe, but the two stars didn't exactly get along.
There are conflicting reports about what went down between Crowe and Banks on Saturday night at a hotel suite bash, but the rapper took to her Facebook page to claim Crowe called her a racial slur and assaulted her. She has since deleted that message.
Meanwhile friends of Crowe's are reportedly saying the actor had to kick Banks out of his suite after she became abusive. The rapper has been known in the past for her social media rants and celebrity feuds.
The Sun reports Banks threatened to "cut" guests at the bash with a broken bottle and Crowe kicked her out.
She told a different story to her fans, writing on Facebook: "To recap my night, I went to a party at Russell crowe's (sic) suite, at which he called me a n----r, choked me, threw me out and spat at me.
She added, "Last night was one of the hardest nights of sleep I've had in a long time. The men in the room allowed it to happen. I feel terrible today.'"
After deleting those posts, she simply wrote, "I have receipts. Stay tuned."
TMZ reports Banks called the guests at Crowe's gathering "boring white men," and she mocked the music selection at the event. The gossip site reports the starlet made a speech threatening the actor and a guest at the party and Crowe proceeded to lift her up and physically evict her from his suite.
Crowe has yet to comment on the incident.