Author Anne Rice defends Paula Deen following Food Network firing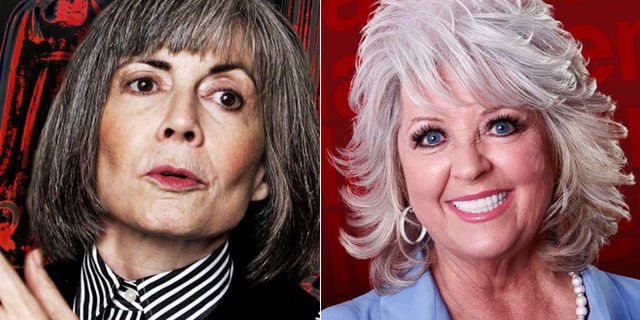 As many former Paula Deen fans are criticizing the celebrity chef these days, one well-known author is defending the 66-year-old cook, claiming the public is blowing the Deen controversy way out of proportion.
Anne Rice, whose works include "The Vampire Chronicles" and "The Feasts of All Saints," posted about Deen on Friday, when news broke that the former Food network star admitted to using the N-word many years ago and perhaps in the years since. Deen also admitted to planning a slavery-themed wedding.
MORE: Will anyone stand behind Paula Deen?
The admissions came as part of a $1.2 million lawsuit brought by Lisa Jackson, the former manager of a restaurant run by Deen and her brother Bubba Hiers. The Food Network announced Friday it would not renew Deen's contract when it expires at the end of the month.
And according to Rice, the fallout following Deen's admissions may be a bit extreme.
"What's happening with Paula Dean? Is it fair? I never heard of her until today, and wow, this looks like a crucifixion," Rice wrote on Friday on her Facebook page. "I may be wrong but aren't we becoming something of a lynch mob culture? Is this a good example of that?"
More than 1,000 people "liked" Rices' Facebook post, and on Saturday the gothic fiction author posted two additional articles about the scandal.
Rice also responded to several fans who commented on her posts. In several replies, she emphasized that Deen's comments were made privately.
"…her brother sounds like a piece of work, but her remarks were made informally and in private, and clearly not intended to hurt anyone. Now they've been elevated to billboard status where they can hurt many as the result of a law suit [sic]," Rice wrote.
The author, who is originally from New Orleans, Louisiana, also mused about what she feels is unfair criticism of the Southern states. Rice currently lives in Southern California, according to her Facebook page.
"…Why does this country still hate the American South so much? You think there isn't deep hateful racism in cities like San Francisco and Los Angeles? I can tell you, that you are wrong. It's easy to hate Southerners, isn't it?"
Rice did not respond to FOX411's request for further comment.