Ashlee Simpson details sweet story of meeting Evan Ross ahead of new reality show debut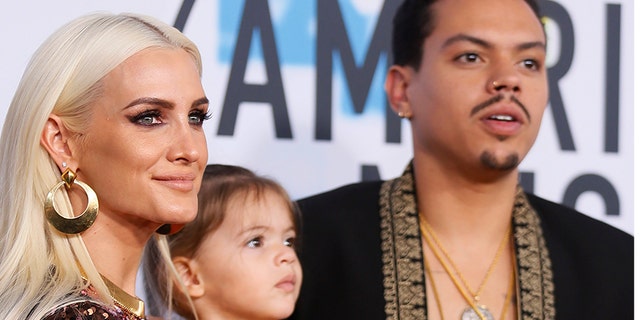 Ashlee Simpson opened up in a big way about her connection to husband and actor Evan Ross and how he pursued her at an intimate party on Friday night in Los Angeles at Warwick LA.
Simpson's older sister, Jessica Simpson, and Ross's older sister, Traci Ellis Ross, were among the star-studded crowd in attendance who congregated to watch the elusive couple perform together live. They were unveiling new music for the finale of their new TV series, "Ashlee and Evan."
A source close to the couple told Fox News that during the swanky event, the 33-year-old songstress couldn't help herself as she let partygoers in on how she and her hubby met.
"Ashlee also told a story about how they first met at Beverly Hills Polo Club. She was out to lunch with her mom and he kept staring at her. He finally came up to her and said 'there's nothing sexier than being a mother. Shortly after they began dating,'' said the source.
Simpson and Ross, 29, have been married since 2014 and have a 2-year-old daughter, Jagger Snow and Simpson is also mom to Bronx, 9, from her previous marriage to Pete Wentz.
"They are a super happy family and Evan just absolutely adores Ashlee -- And it is beyond reciprocated," the source added. "They share something truly special and they both know that."
"They want people to see their love and show everyone out there that family is worth fighting for when you love them so much."
While things might look rosy on the outside, Simpson recently admitted to E! News that their four-year marriage doesn't come without its own challenges.
"I think there is so much vulnerability that we give to you guys," Simpson said. "You don't really know about us. Get to know us! We have something to share."
Ross chimed in on his wife's sentiment and it's clear that the duo is in agreement when it comes the resiliency of their marriage.
"Right now, there's not a lot of young people talking about love. There's not always perfection all the time," Ross said. "But the truth of it is, it's all built out of love."
He continued, "Creating our music. Creating ideas together. Building things as a family, it's something that I feel is special. It's nice being able to work with your family. I get to see my baby, my wife. I get to go to bed with them. It's amazing!"
Simpson and Ross' show, "Ashlee and Evan" is slated to debut on E! "in a few months," according to sources familiar with production.