Ana de la Reguera Gets Caught between "Cowboys & Aliens"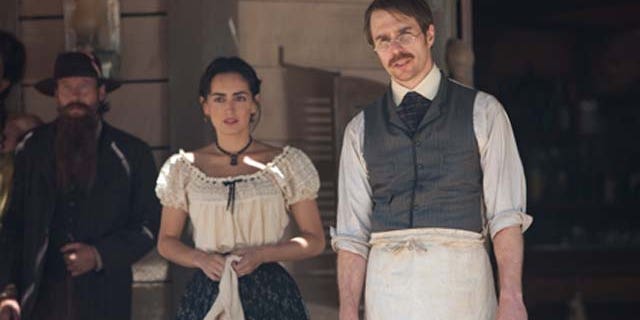 Mexican beauty Ana de la Reguera gets caught in an all-out war between humans and extraterrestrial beings in her latest film "Cowboys and Aliens."
De la Reguera plays Maria, the wife of the local saloon owner played by Sam Rockwell, set in a town in Arizona in 1873, when large spaceships arrive and begin to attack the human race.
"I just love the whole movie! I think it's great," De la Reguera told Fox News Latino. "I feel blessed to be in this project."
The Mexican actress, known for her work on HBO's "Eastbound and Down" and her cross over role in "Nacho Libre" alongside comedian Jack Black, says she fell in love with the script instantly.
"They sent me the script and I was like oh my God I hope they cast me for this," said the Reguera. "I thought I was perfect for the role."
The movie was shot on location in Santa Fe, New Mexico an experience that De la Reguera called great because "it definitely gets you in the mood" to act.
"New Mexico is a beautiful state and now Santa Fe is one of my favorite places in the world," said De la Reguera. "I was very happy to be there."
Working side by side with Hollywood giants such a as Daniel Craig and Harrison Ford was memorable for the actress.
"Everytime Daniel is on the screen I just love that," said De la Reguera laughing. "When he takes his shirt off I think that was my favorite part."
"The acting in the movie is great, she adds."There is this scene where everyone is in a fire place and they are talking and having this argument and I thought that was hilarious with Olivia, and Daniel and Harrison. It was really raw."
You can reach Alexandra Gratereaux at: Alexandra.Gratereaux@foxnewslatino.com or via Twitter: @GalexLatino
Follow us on twitter.com/foxnewslatino
Like us at facebook.com/foxnewslatino