Amber Heard fans upset after she posted a racist tweet while warning people about ICE checkpoints
NEWYou can now listen to Fox News articles!
Actress Amber Heard has upset a number of her fans after posting a tweet that was meant to be critical of the Trump administration's ICE checkpoints, but struck most as racist.
Heard, 32, took to Twitter in the early hours of Tuesday to warn her followers about an ICE checkpoint near her home. However, in doing so she has been accused of stereotyping Latin Americans by suggesting they're only working service jobs.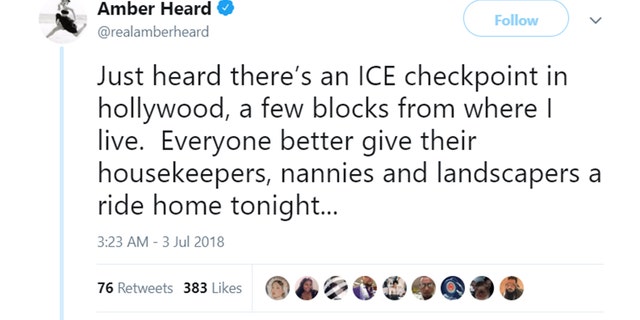 "Just heard there's an ICE checkpoint in hollywood, a few blocks from where I live. Everyone better give their housekeepers, nannies and landscapers a ride home tonight…" she wrote in a since-deleted tweet.
Just 10 minutes later, she posted a follow-up tweet on the subject that was a bit more successful at driving her political point across.
"Checkpoints on your home streets…. Is this the 'great' America we're aiming for? Raids, fences and police-state like checkpoints don't feel like the 'land of the free' our immigrant ancestors built."
Despite making it clear that she's against the ICE practices, fans did not let the first tweet about housekeepers, nannies and landscapers slide. Dozens of her followers were quick to react to the tweet calling the star, and ex-wife of Johnny Depp, out on her racist comment.
"I can see where you were going but somewhere along the way you took a wrong turn. Delete this sis," one user wrote.
"Girl, I THINK you meant well, but this… this ain't it," another commented.
"*Everyone better give their latino friends and family a ride home," one sarcastic user quipped. "I fixed it for you."
Others were more blunt, noting that the star may be advocating for the use of illegal laborers to her followers. The star eventually deleted the offensive tweet and sent an explanatory message to her fans in its place.
"With this human rights crisis being so politicized, it is hard to make a simple statement w/out it being used to distract from the real issues. Its hard for everyone to not be negatively affected by this subject in some way," she wrote.
Heard has been an outspoken anti-ICE advocate for some time.
The star posted a slew of pictures to her Instagram last week while attending a #KeepFamiliesTogether rally in Marcelino Serna Port of Entry in Texas, her home state. One image of the star shows her sporting a sign that read: "Apartheid was legal. Holocaust was legal. Legality is a matter of power, not justice."
According to Yahoo, Heard was joined at similar protests by other celebs such as Lena Dunham, Joshua Jackson, Connie Britton, Evan Rachel Wood and Sia.