Amal Clooney slams Donald Trump at United Nations Correspondents Association Awards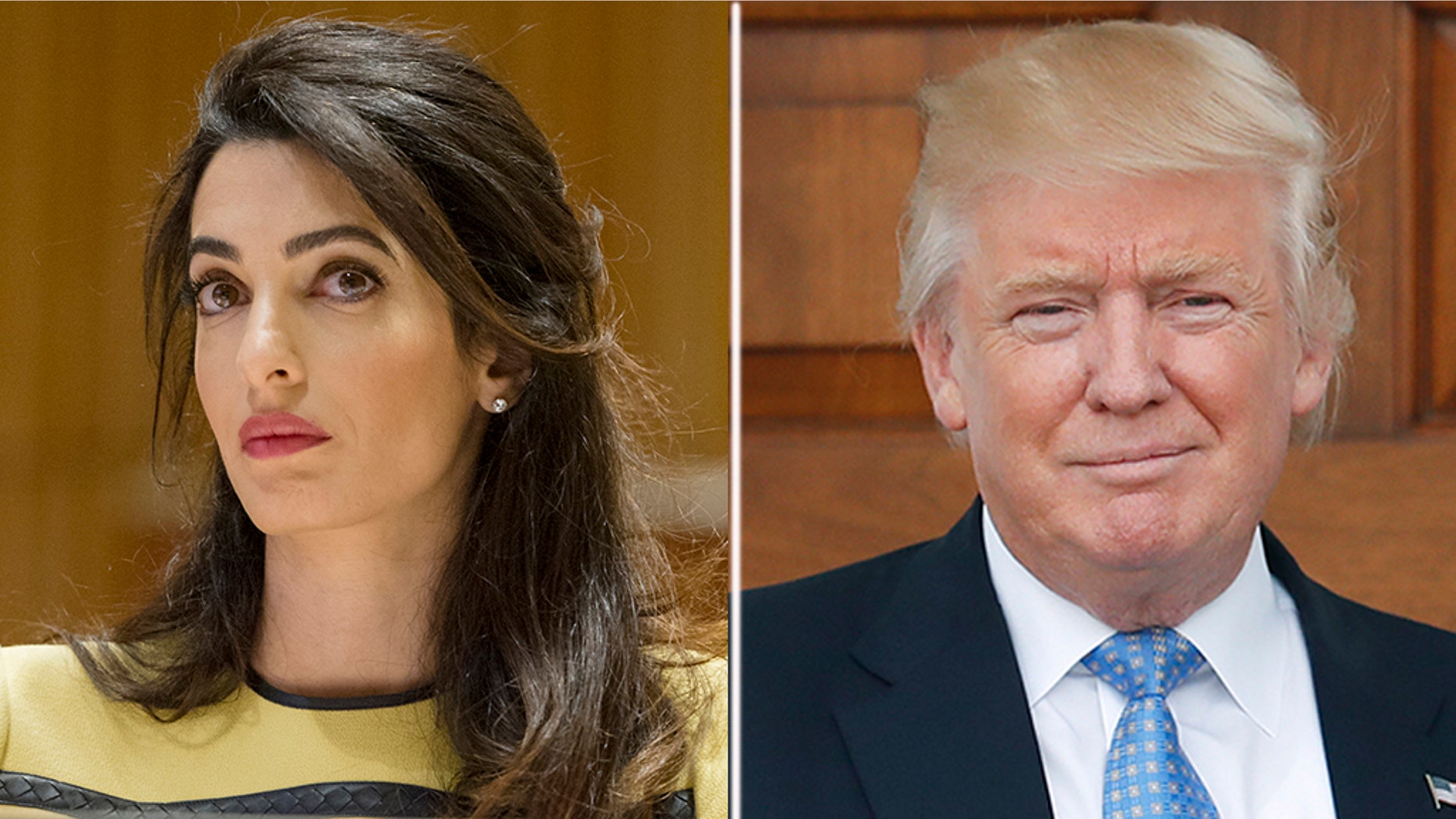 Amal Clooney took aim at President Donald Trump on Wednesday for his treatment of the press.
At the United Nations Correspondents Association Dinner Awards, Clooney, 40, said in a speech (via the London Evening Standard) that autocratic regimes' "chilling effect is real, and it has already been felt, not only in Myanmar but further afield. And sadly similar examples abound in autocratic regimes from North Korea to the Philippines, to Hungary, Turkey and Brazil."
"The U.S. President has given such regimes a green light," she said, "and labeled the press in this country 'the enemy of the people.'"
She continued, "Of course, two months ago a Washington Post journalist Jamal Khashoggi walked into a consulate in Istanbul and was brutally tortured to death. In many of the cases that I have worked on too, I have seen journalists and opposition figures ruthlessly targeted so that they can no longer criticize leaders."
"You are being jailed at a higher rate than ever," Clooney said. "And you are dying while covering wars, not just because you walk, unarmed, into some of the most dangerous places on earth. But because you are being targeted for exposing crimes committed in war. For speaking the truth that perpetrators find the most difficult to hear."
It's not the first time the human rights attorney has criticized the president.
In October, Clooney expressed disdain at Trump's treatment of Brett Kavanaugh accuser Dr. Christine Blasey Ford, saying, "A president shouldn't ridicule a woman who courageously comes forward to allege abuse."
A month earlier, the barrister, who represented Reuters journalists detained in Myanmar, urged the country's leader, Aun San Suu Kyi, to pardon them.
"She knows that mass murder is not a state secret and that exposing it doesn't turn a journalist into a spy," Clooney said of Suu Kyi. "She has said that one political prisoner is one too many, and so we're hopeful that since these are the principles that she herself has espoused, she will step in and try to correct an injustice in this case."