Amal Clooney criticizes Trump for controversial comments on Christine Blasey Ford's Kavanaugh accusations: report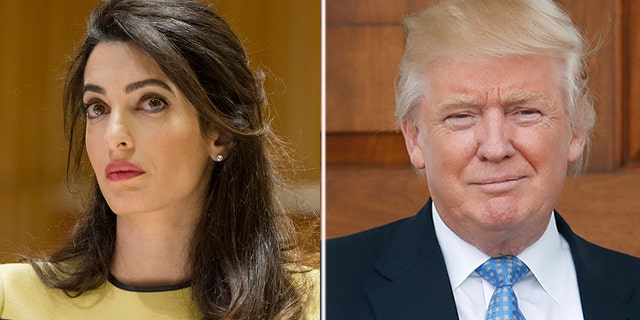 Amal Clooney reportedly took aim at President Trump on Friday for his previous controversial remarks about Christine Blasey Ford, who accused now-Supreme Court Justice Brett Kavanaugh of sexual assault.
The remarks from the human rights attorney came during her address to the Pennsylvania Conference for Women, Philadelphia Magazine reported. The conference announced in April that she would be headlining the event as a keynote speaker.
"A president shouldn't ridicule a woman who courageously comes forward to allege abuse," Clooney told the crowd in Philadelphia, according to the outlet.
GEORGE AND AMAL CLOONEY JOIN THE LIST OF A-LIST ROYAL WEDDING NO-SHOWS
Clooney was seemingly referring to comments made by the president during a campaign rally in Mississippi on Oct. 2. While defending Kavanaugh, who denied the accusations, Trump questioned Ford's sexual assault allegations.
He claimed that her one concrete recollection was, "I had one beer!"
He then portrayed the back-and-forth between Ford and her interviewers. "'How did you get home?' 'I don't remember.' 'How did you get there?' 'I don't remember.' 'Where is the place?' 'I don't remember.' 'How many years ago was it?' 'I don't know.'"
Clooney on Friday also touched on other topics, such as the #MeToo movement, Philadelphia Magazine reported.
AMAL CLOONEY: PARDON REUTERS REPORTERS JAILED IN MYANMAR
"We are living through a moment of reckoning and a rebalancing of power," Clooney reportedly told the crowd. She went on to add that a lot of work remained to be done but she was "optimistic," the outlet said.
When she concluded, the crowd praised her with standing ovation, the outlet reported.
Also on Friday was Princess Eugenie's royal wedding, which Clooney and her husband, actor George Clooney, were both notably absent from.
It was speculated that the Clooney's, who live in London with their twins, would have attended the royal wedding since they had also attended Prince Harry and Meghan Markle's in May. But when it came time for the royal celebration, the Clooney couple was not among the A-list crowd who showed.
Fox News' Morgan M. Evans contributed to this report.