Alec Baldwin says relationship with woman arrested outside his house 'strictly professional'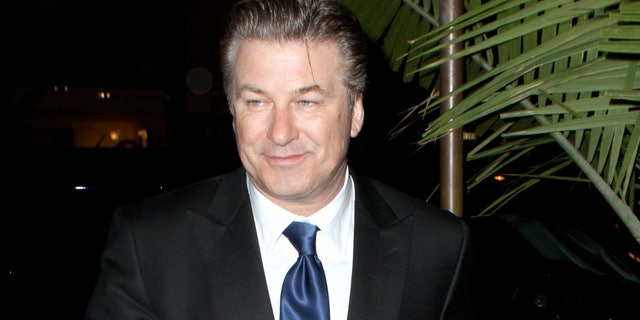 NEWYou can now listen to Fox News articles!
NEW YORK – The struggling actress busted for allegedly stalking Alec Baldwin claims that they were lovers and that she wanted to have his baby, while he admits only to wining and dining her — in a "strictly professional'' manner, of course, sources told The Post yesterday.
The "30 Rock" star told police he was merely trying to help French-Canadian hottie Genevieve Sabourin snag some movie roles in the United States when he twice took her to dinner in 2011, the sources said.
But Sabourin, 40, busted outside Baldwin's Manhattan apartment building Sunday night, said the relationship was more — much more, according to the sources.
She particularly went berserk after news broke April 2 that Baldwin, 54, was engaged to gorgeous, 28-year-old yoga instructor Hilaria Thomas, the sources said.
PHOTOS: Alec Baldwin's fiance Hilaria Thomas.
"[Sabourin] said [she and Alex] had sex and she wanted to have his baby," one law-enforcement source said.
Another source added, "She's claiming that she and Alec were lovers.''
The French-speaking suspect bombarded Baldwin with English-language e-mails, including one April 4 in which she wrote, "I need to start my new life, with my new name . . . in my new country help me my newly [sic] husband, you!"
Everything you ever wanted to know about Alec Baldwin.
That same day, she added in another e-mail, "Please Alec come and pick me up now. I am less than 10 min away from you tonight. Say I do to me.''
But "cops questioned [Baldwin], and he denied [any affair]," the second source said.
While the hot-headed actor admitted that he had taken Sabourin to dinner, he insisted that the meetings were "strictly professional" and denied any "physical relationship" with the shapely blonde, the sources said.
Sabourin first met Baldwin on the set of the 2002 Eddie Murphy flop, "The Adventures of Pluto Nash," her distraught mom, Murielle Sabourin, told The Post at her home in Candiac, Quebec, a suburb south of Montreal.
Sabourin's lawyer, Julie Sender, said at her client's arraignment in Manhattan Supreme Court last night that the pair had a two-year relationship. She did not mention whether it was sexual.