Alan Thicke's widow claims late actor's sons are spending trust, keeping her from inheritance
The late Alan Thicke's wife, Tanya Callau, is claiming that the actor's sons, Robin and Brennan, are spending their father's money while holding on to her inheritance.
After Thicke passed away from a ruptured aorta in 2016, Robin and Brennan were named co-trustees of his estate, according to TMZ. But Thicke's wife feels that the brothers are leaving her in the dark and are "recklessly" spending money from their father's trust and not handing her what she is owed.
According to the Daily Mail, Callau has decided to act and has said she will take the brothers to court if they do not "meet her demands."
In a statement to TMZ, Callau's lawyer Adam Streisand said, "The fact that Tanya still hasn't received her inheritance is unconscionable."
According to documents obtained by TMZ, the Thicke brothers did not approve of Callau shelling out cash to construct a burial site monument for her late husband and did not reimburse her for the amount of money she spent. But the "Blurred Lines" singer was reportedly reimbursed for $105,000 after he threw a massive memorial party in honor of his father, the day before his memorial service. In addition to not being reimbursed for the burial site memorial, the widow claims that Robin and Brennan are "unfairly" charging her for taxes and expenses.
Back in September, a judge threw out a petition that Robin and Brennan filed against Callau blocking her from challenging anything in her prenup. According to TMZ, the judge ruled that there was no evidence that Callau was planning on challenging her prenup and that their concern about the matter was "misplaced."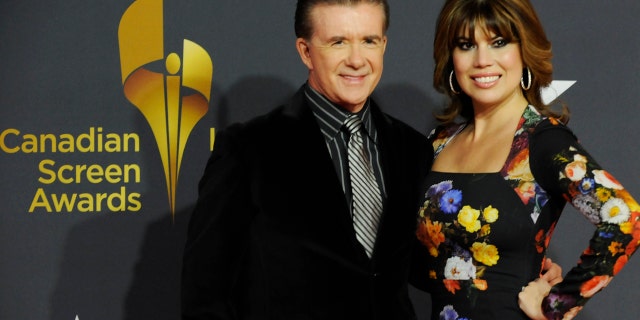 Prior to the September judge ruling, Callau claimed that the brothers had filed legal documents against her solely to embarrass her in the media. According to the Daily Mail, the prenup signed by Callau and her late husband states that she is entitled to 25 percent of his personal effects, his ranch's furnishings, a $500,000 life insurance policy, all of his death benefits from pensions and union memberships as well as 40 percent of his remaining estate.
Thicke met Callau in 1999 and later married in 2005. The couple remained together until the actor's death. Callau was Thicke's third wife.