Actress joins London protest seeking end to Aleppo bombing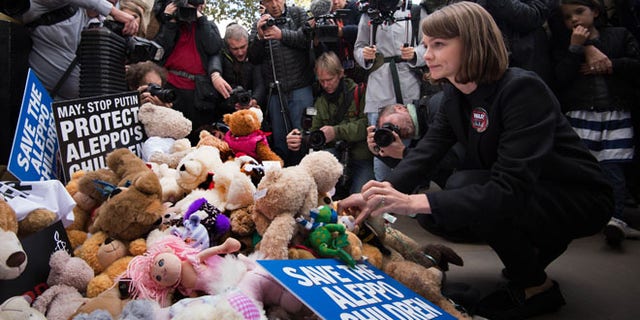 Hundreds of London protesters, including actress Carey Mulligan, have left teddy bears outside the prime minister's office as they demanded a larger British role in ending attacks on civilians in Syria's Aleppo.
Demonstrators backed by Amnesty International and other activist groups gathered Saturday at the gates of Downing Street. They said the teddy bears represented thousands of children trapped in rebel-held areas of Aleppo targeted by Syrian government forces and their Russian allies.
Mulligan said the British government must "take a really strong stance and come up with robust measures to deal with this."
Calls for action ranged from tougher sanctions on Russia to the enforcement of a no-fly zone.
British officials stress the need for diplomatic pressure on Russia but have shown little appetite for military action.