ABC News silent after more than 30,000 calls over 'View' star Joy Behar's 'anti-Christian bigotry'
ABC has received at least 30,000 calls since the Media Research Center began a campaign to hold "View" co-hosts accountable for spewing "anti-Christian bigotry," but it doesn't look like the network plans to take action.
Co-hosts Sunny Hostin and Joy Behar mocked Vice President Pence's Christian faith earlier this month on "The View," and MRC President Brent Bozell published an open letter to ABC News calling for an apology.
ABC had received 30,588 calls as of Wednesday morning, and angry viewers have also reached out to the chat show's  advertisers, including Clorox, Gerber, Oreo and Home Advisor. The advertisers have received no fewer than 6,000 calls, according to the MRC.
The MRC, which says it's "America's leading media watchdog in documenting, exposing and neutralizing liberal media bias," posted contact information for 14 of the ABC News program's advertisers as well as the president of ABC.
"I am sure the advertisers of 'The View' will be just as appalled as I am about the anti-Christian remarks made on the show," Bozell wrote.
ABC News and Disney did not respond to separate requests for comment. The MRC told Fox News that it hasn't yet heard from ABC or any of the advertisers.
The controversy has resulted in a variety of industry watchdogs suggesting it would be wise for ABC News to divorce itself from the show, which in a typical broadcast typically features four outspoken liberals and a single conservative.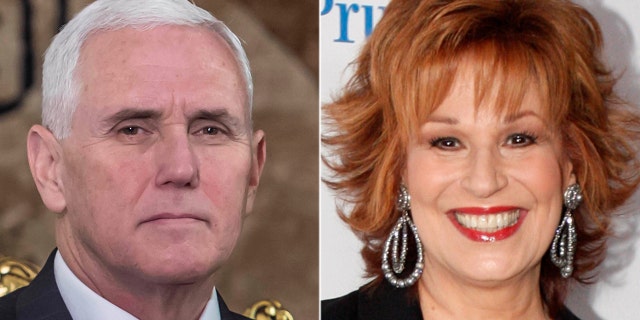 Back on Feb. 13, the panel criticized Pence's faith when Hostin said, "I don't know that I want my vice president, um — speaking in tongues and having Jesus speak to him."
Co-host Joy Behar chimed in, adding that hearing from Jesus is actually called "mental illness." Pence himself didn't appreciate the comments and slammed ABC News.
"To have ABC maintain a broadcast forum that compared Christianity to mental illness is just wrong," Pence said during an appearance on C-SPAN following the controversial remarks. "It is simply wrong for ABC to have a television program that expresses that kind of religious intolerance."
The MRC said the comments by Behar and Hostin "took the liberal media's pronounced bias against Christianity to the next level."
And since that broadcast aired, "The View" hasn't  toned down its rhetoric. On Monday, Behar went after CPAC and claimed that the conservative conference's participants have a "penchant for Nazis."