ABC News, Joy Behar slammed for 'View' attack on Mike Pence's Christian faith
ABC is facing mounting criticism after its panelists on "The View" mocked Vice President Mike Pence's Christian faith. Detractors of "The View" are focusing on the fact that ABC News, which claims to be an unbiased broadcast news operation, oversees such a nakedly partisan program with one "token" conservative.
The women of "The View" took a shot at Pence's Christian faith on Tuesday, mocking the former governor of Indiana for talking to Jesus and even calling it a "mental illness."
Sunny Hostin said it's "interesting" that former White House staffer Omarosa Manigault Newman recently said that Pence talks to Jesus and believes Jesus tells him things. Hostin said she is a "faithful" Catholic but doesn't want her vice president "speaking in tongues." Joy Behar then said, "It's one thing to talk to Jesus. It's another thing when Jesus talks to you… that's called mental illness."
ABC News paints itself as a fair news organization but its longtime slogan, "See the Whole Picture," often doesn't apply to "The View," according to many critics.
"It has become jarring how fixated the show is on politics and how slanted the table is," Mediaite columnist Joseph Wulfsohn told Fox News.
Wulfsohn said it's ABC News' prerogative if network executives decide that having four outspoken liberals and a single "token" conservative is "profitable" but the decision "does a great disservice" by marginalizing the view of roughly half the country.
The Hill media columnist Joe Concha thinks "it would be wise for ABC News to divorce itself" from "The View."
"It's a pure opinion and infotainment program and therefore should be under its entertainment division," Concha told Fox News.
Fox News' Todd Starnes slammed Behar in a scathing op-ed, saying it's "understandable that a Christophobe like Behar be dumbfounded by such a concept."
Starnes added that "if hearing the voice (of) God means (you are) mentally insane" then he is crazy himself.
"If ABC News wants to employ an anti-Christian bigot – that is their business," he wrote.
Pence himself didn't appreciate the comments and slammed ABC News Wednesday on C-SPAN.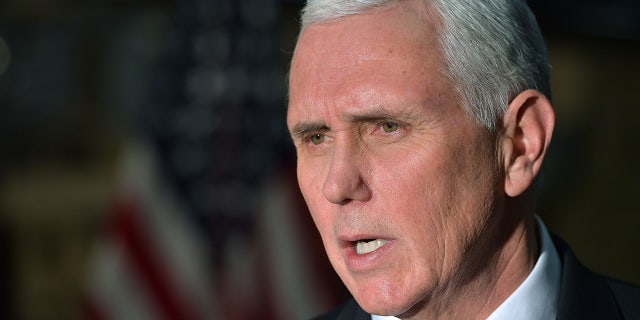 "To have ABC maintain a broadcast forum that compared Christianity to mental illness is just wrong," Pence said. "It is simply wrong for ABC to have a television program that expresses that kind of religious intolerance."
Jeffrey McCall, a media analyst and DePauw University professor, told Fox News that it is concerning that "The View" falls under ABC's news division.
"It would seem the news division of a major broadcast network should not be programming content that is clearly partisan. The show should be exported to the entertainment division, if only to maintain some journalistic integrity for the news division," McCall said.
Ironically, "The View" has emerged as the most prominent broadcast of ABC News, whose programming has otherwise been in steep decline, battling declining ratings and relevance. At the same time, ABC News' oversight of "The View," which it took over in 2014, has been criticized for "Keystone cops management," according to one ABC insider, resulting in "Game of Thrones" style feuding between hosts, multiple firings and behind the scenes turmoil.
The Media Research Center emailed supporters on Thursday morning with a message titled, "Don't let ABC get away with this." The email reiterates the offensive comments made by Behar and Hostin and states, "We need to stand up against these bullies and bigots and let them know that we will not stand for such disgraceful and prejudiced behavior."
The MRC said that "religious bigotry and hypocrisy cannot and will not be tolerated" and even posted the phone number to contact ABC News executives with complaints.
"Take a minute and call ABC now and let them know that this anti-Christian bias is dangerous and deeply offensive," the MRC told subscribers.
Meanwhile, the women of "The View" addressed the controversy on Thursday and Behar didn't exactly apologize.
"I don't mean to offend people but apparently I keep doing it," she said. "It was a joke."
ABC News, part of the reliably liberal Disney ABC Television Group, has been accused of veering left on a regular basis. ABC News reporter Brian Ross famously helped spur a 350-point drop in the Dow Jones Industrial Average in December after he reported incorrectly on live television that fired National Security Adviser Michael Flynn would testify that Trump had ordered him to make contact with Russians about foreign policy while Trump was still a candidate.
Ross issued a correction, and was then suspended for a month without pay. He was later demoted to an unclear role at ABC News' beleaguered Lincoln Square Productions. In fact, Concha pointed out that ABC News embarrassed Behar by having her read Ross' report on the day of the error -- which he said is proof the two should be mutually exclusive.
"A floor director literally walked it out to Behar, who read the lead verbatim... the story blew up before being 'clarified' and eventually corrected. Joy looked foolish and was forced to apologize the next day," Concha said.
Other examples of ABC News' liberal bias include the fact the network's chief anchor, former Bill Clinton communications director George Stephanopoulos, did not disclose a substantial donation to the Clinton Foundation in 2015 and was forced to recuse himself from moderating presidential debates.
ABC News did not immediately respond to requests for comment.