'90 Day Fiance' star explains why she spoke out, slams co-stars
NEW YORK – TLC's Loren Brovarnik is glad she spoke out about having Tourette's syndrome.

The "90 Day Fiance: Happily Ever After?" star recently revealed she had the neurological disorder. She didn't discuss the condition until after the first season of the show aired and she received a lot of negative comments about her tics online.
"I'm definitely glad that I was kind of forced to open up about having Tourette's syndrome," Loren told Fox News. "I didn't want to, but it helped me accept who I am and it's gotten awareness out there which is great."
Loren said she relied on her husband Alexei to get through the nasty comments she received online.
TLC'S '90 DAY FIANCE' STAR PAOLA REGRETS TOPLESS PHOTO SHOOT
"If I could help one person then I did the right thing," she shared. "People who have Tourette's syndrome, they don't openly talk about it because it's embarrassing and it's painful and it's more than just tics and movements and sounds. It effects you mentally."
She added, "I couldn't have done it without Alexei's support and knowing that all of these people are being helped by me which is crazy to even think about it helps me get through it because I still deal with it every day."
Floridian Loren met her husband Alexei, from Israel, on a Birthright trip to Israel. Birthright is a non-profit organization which sends young adults of Jewish heritage on a free 10-day trip to Israel.
After failing twice to secure a travel visa, Loren and Alexei applied for a K-1 visa. They had 90 days from the time Alexei landed in the United States to decide if they wanted to wed.
"We decided to go on '90 Day Fiance: Happily Ever After' because we wanted people to see that there are people out there who go through the green card process and the K-1 visa process for the right reasons," Loren explained.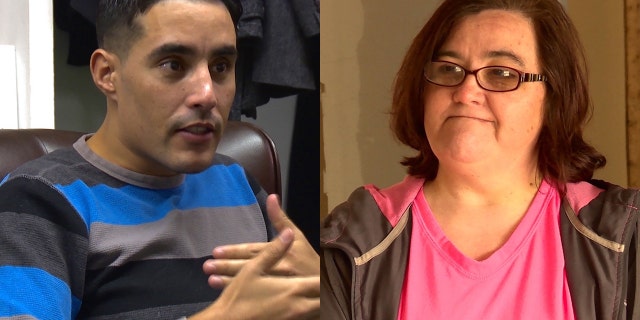 The 27-year-old said she does not think everyone on the TLC show applied for a K-1 visa for the similar reasons, mainly Danielle and Mohamed -- the top headline-grabbing couple from the series.
"They get attention because its negative," Loren said. "I mean, people are drawn to negativity, we need something to talk about and they're just...it's a joke. It's like a circus act, I can't.
Alexei defended the pair adding, "I just don't care. Every couple and every person is different. Everyone has their own reasons... that's it."
Loren chimed in, "We know their reasons."
Catch Loren and Alexei on "90 Day Fiance: Happily Ever After?" Sunday nights on TLC. Watch a sneak peak of the next episode in the video below.