50 Cent alleges Floyd Mayweather was the cause of 2014 murder-suicide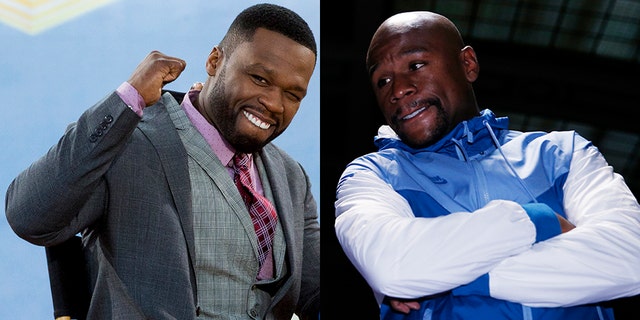 The social media slugfest between 50 Cent and former boxer Floyd Mayweather got dirty early Tuesday with the hip-hop star and actor accusing his former friend of being the cause of a 2014 murder-suicide.
Mayweather, who retired last summer, and 50 Cent, whose real name is Curtis Jackson, have recently been trading a variety of insults, with Mayweather claiming that Jackson had herpes, has a son that doesn't want to be involved with him and that Jackson previously asked to borrow money – despite making millions in the hip-hop industry and with his business deals.
"You are a certified snitch and we got paperwork to prove it," Mayweather wrote in a lengthy Instagram post. "I know where all your bones are buried, so be easy Curtis Jackson! And by the way, don't ask to borrow no more money from me."
Jackson replied by reiterating Mayweather's domestic abuse allegations and by making fun of Mayweather's writing and reading abilities to which Mayweather posted memes featuring Jackson with images of rats and the hashtag "#50CentGotHerpes."
But early Tuesday, Jackson took the fight to a new level, accusing the former champion of having an affair with the wife of the late rapper Earl Hayes. Mayweather, according to Jackson, slept with Stephanie Moseley, which then allegedly led to Hayes killing her before he committed suicide. Hayes reportedly used FaceTime with Mayweather prior to the incident.
"Tell everybody why you was on FaceTime when he killed Stephanie and himself," Jackson wrote on Instagram. "Because he was confronting you about f***ing his wife. You was pumping all that Trey Songz s***, get the f*** outta here. You didn't give a f*** you just went to watch the ball game."
"He beat 50 men, 11 women and caused 2 body's," Jackson wrote in a separate post. "Keep calling me and I'm gonna show champ."
Mayweather did not immediately reply on social media.
Mayweather, who retired with an unbeaten record last summer after defeating UFC star Conor McGregor, and Jackson were formerly close friends with the latter accompanying the fighter in his walks to the boxing ring.
A request for comment from Mayweather's representatives was not immediately returned.