2013-14 TV Preview: Networks face big challenges this fall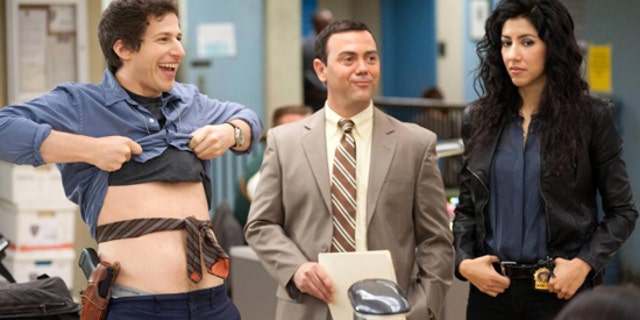 The first new fall series, Fox's Sleepy Hollow, premieres tonight, marking the unofficial start of the 2013-14 broadcast season. A slew of new shows and a legion of returning ones will unspool over the next couple of months. In the past, that would mean a bloody skirmish in every time slot, with one show coming out victorious and the rest in moderate or grave danger. Now with DVR and online viewing, several shows airing in the same time period can be popular.
But will they all be successful?
That is probably the biggest question facing the networks — how to translate eyeballs on different platforms into ratings and money from advertisers. While ad rates now are determined by C3 ratings that include playback (plus commercials) in the first three days after the premiere airing and the networks universally use Live+7 as ratings currency, Fox's Kevin Reilly recently made a case for expanding the rating measurements to Live+30 and beyond and for including online viewing. In line with that, Fox this fall is introducing DVR and multi-platform lift projections for its shows.
Meanwhile, CBS' Leslie Moonves and David Poltrack recently proclaimed the decline of the adults 18-49 demo, which has been the key metric for advertisers. All that confusion opens the door for even more spin from the networks who can declare almost any show a hit using different viewing windows and demos. Maybe Netflix's M.O., often criticized by its competitors, not to disclose any ratings data isn't that bad after all. If the company considers it successful, it renews is, if not, it's gone.
Back to the broadcast networks, which seem to be switching identities this fall. CBS' highest-profile new drama, Hostages, is a serialized thriller vs. a classic procedural last year (Elementary). Meanwhile, NBC, which made its biggest drama push with the heavily serialized Revolution last fall, is getting behind a procedural The Blacklist, which inherited Revolution's Monday 10 PM slot, this year. Multi-camera leader CBS is making a push in single-camera comedy with The Crazy Ones and We Are Men, while single-camera-centric Fox is reverting to multi-camera comedies with Dads. Here are some challenges each of the networks faces.
ABC needs a hit, pronto. The network raised eyebrows with president Paul Lee declaring it "the No.1 brand in adults 18-49" as opposed to ABC's ratings standing as the No.4 network in adults 18-49. While Scandal's sophomore rise has been one of the biggest success stories last season, returning only two series from last season, Nashville and The Neighbors, both bubble performers at best, is not a good record. The network put most of its eggs this fall in one basket, Marvel's Agents of S.H.I.E.L.D., hoping that Marvel's golden boxoffice touch will translate to TV. ABC also is searching for its first comedy hit since Modern Family.
NBC had a great fall last year followed by an abysmal winter and better spring. The network boasts two of the most buzzed about new shows, drama The Blacklist and The Michael J Fox Show, which marks the TV return of the popular actor. Last year, NBC used the two-week coverage of the summer Olympics to promote its fall lineup. The network likely hoped to do the same this year with another two-week event, The Million Second Quiz show. Unfortunately, it fizzled. But NFL football seems as strong as ever and is sure to prop up the network's schedule on Sunday with halo effect on Monday and Tuesday where NBC deploys its biggest hit, The Voice. Among the questions hovering over NBC — will the network's already anemic Thursday comedy block withstand CBS' expansion to two hours of comedy on the night once known as Must See TV. Will Chicago Fire have a sophomore growth spurt and is it established enough to successfully spawn a spinoff?
Fox has had some of the earliest fall casualties in the past few years with Lone Star and Mob Doctor. Its fall is always challenging because of baseball pre-emptions, putting extra pressure on the new shows to find audience quicker. After taking a more niche approach in comedy for the last couple of seasons, Fox is betting on broader and lower-brow comedies this fall, including Brooklyn Nine-Nine, Enlisted and the controversial Dads. Will the change in direction pay off? After scoring a first drama hit in a long time with the very gory The Following, Fox is betting 100 percent on genre fare this fall with Sleepy Hollow and Almost Human, both of which coincidentally feature a severed head in the final scene of the pilot. After a string of misfires and cult shows like Fringe, will Fox finally find a new genre hit to succeed The X Files?
When CBS made a big bet in May on serialized drama with Hostages and single-camera comedy with The Crazy Ones and We Are Men, there was skepticism that this could be a gesture to show the creative community that the network is open to any genre before it goes back to its steady diet of procedurals and multi-camera comedies. But over the past two months, CBS scored a rare summer scripted hit with a heavily serialized drama, Under The Dome. Wisely, CBS aired the series in the Monday 10 PM slot, warming it up for Hostages, which will seamlessly follow Under The Dome next Monday. CBS' long-term commitment to single-camera comedy is more of a question mark and will depend on the performance of the two canaries in a cold mine. CBS' top prize this fall would be to successfully expand its Thursday comedy block.
The CW is taking a lot of risks this fall. For once, it is using its strongest launch pad, The Vampire Diaries, to introduce a soapy female drama, Reign. That is a genre that has struggled mightily on the network for years, which has only found success with genre shows like TVD, Supernatural and Arrow for the last few years. Also questionable was the CW's decision to pit TVD spinoff The Originals against ABC's Agents Of S.H.I.E.L.D. though the former's premiere has been pushed back a few weeks and both shows will likely be heavily DVR-ed. Because of its younger skew, the CW is probably most affected by the younger viewers' migration online, with TV ratings accounting only for a fraction of its total audience. The network's Mark Pedowitz had been searching for a new system to reflect the large portion of digital viewing but a solution appears far off. Until then, take all ratings we report in the morning with a big grain of salt.