10 biggest celebrity social media screw ups of 2012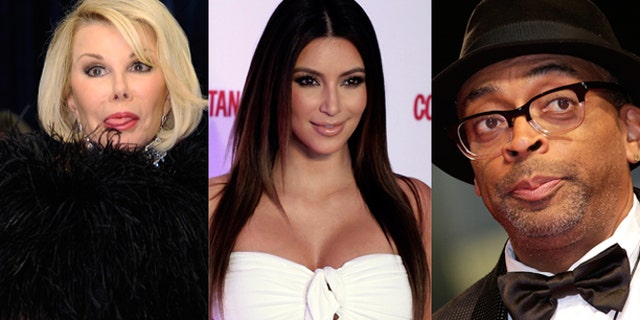 NEWYou can now listen to Fox News articles!
Celebrities enjoy an audience, which is why they take to social media like bees to a half-drunk can of Fanta. Unfortunately for some stars, social media can sting back. From lying about college acceptances to cussing out the NFL, here are some of the biggest celebrity social media screw ups of 2012.
10. Brandi Glanville posts email, then regrets it
In the height of the feud between "Real Housewives of Beverly Hills" star Brandi Glanville, her ex Eddie Cibrian and his new wife LeAnn Rimes, Glanville posted an email she sent to Cibrian. The profanity-filled email didn't seem to help her case, and she almost immediately took it down. "I'm taking email down I was in defense mode," Brandi tweeted. "Let's not talk of them anymore I was wrong [to] put it up."
9. Cher angers The Donald
Cher probably bit off a bit more than she could chew in November when she started a Twitter war with Donald Trump. Cher posted several anti-Trump tweets when she discovered Trump's brand was sold at Macy's. She even made a crack about Trump's hair, referring to it as "his rug." So The Donald fired back. "Cher-- I don't wear a 'rug'—it's mine. And I promise not to talk about your massive plastic surgeries that didn't work." The singer then somewhat apologized, posting she took a "cheap shot" and was wrong.
8. 50 Cent gets cryptic, talks dying
Some things are just better kept to yourself. Rapper 50 Cent learned that when got super intense on Twitter in January and freaked out some of his fans. "I'll be honest I don't think I'm gonna live longer. That's why I started my street king movement."
7. Chris Brown brags about Grammy win
After Chris Brown took home a Grammy in February, he had an unusual way of sharing the news with his fans. "Hate all you want [because] I got a Grammy now! That's the ultimate f**k off!" Brown's bragging didn't go over too well with fans, many of whom thought he could have handled the win more gracefully.
6. T.J. Lang gets feisty with NFL
Green Bay Packers guard T.J. Lang expressed his anger with the referees following a Packers-Seahawks game in September. "Got f***ed by the refs… Embarrassing. Thanks NFL," he wrote. Taking it one step further, Lang posted: "Fine me and use the money to pay the regular refs." Surprisingly, the NFL didn't discipline him.
5. Kris Jenner shows too much skin
Kardashian momager Kris Jenner gained a lot of attention back in October when she tweeted a sexy photo of herself in a wonder woman costume. What the 56-year-old failed to notice was that her top showed off a little more than she had planned. "Jeeeez what's all the fuss about?!!! It's just an innocent nip slip, happens to the best of us," she later wrote.
4. Joan Rivers and Rihanna battle on Twitter
Rihanna shocked many when she appeared in an interview with Oprah Winfrey and said she still loved her abusive ex Chris Brown. Following the August "Next Chapter" episode, Joan Rivers piped up to give RiRi a piece of her mind. "Rihanna confessed to Oprah Winfrey that she still loves Chris Brown. Idiot! Now it's MY turn to slap her," Rivers tweeted. Rihanna fired back, tweeting: "Wow [you] really do get slow when you're old, huh?" Rivers' reply was simple: "Honey, everyone knows: If he hit you once, he'll hit you again. Read the statistics."
3. Kim Kardashian posts about Israeli-Palestinian conflict
Kim Kardashian caused a stir when she tried to discuss the Israeli-Palestinian conflict in November. "Praying for everyone in Israel!" she tweeted. But after some users bashed Kardashian voicing her support for Israel, she quickly wrote "praying for everyone in Palestine… as well as across the world!" She eventually deleted both tweets and issued an apology.
2. Rob Kardashian pretends he's going to law school
In August, the man of the Kardashian crew tweeted: "Going to Law School very soon and so excited and can't wait! School just never ends for me! #UniversityofSouthernCal." The only problem? Kardashian hadn't even applied to the school. USC later sent out a tweet: "Rob Kardashian isn't coming here, but we're glad he's a Trojan fan."
1. Spike Lee tweets fake George Zimmerman address
Spike Lee found himself in major Twitter trouble in March when he retweeted a fake address he believed was George Zimmerman's. He ended up compensating David and Elaine McClain, after they were harassed at their home. "I deeply apologize to the McClain family for retweeting their address," he posted later. "It was a mistake. Please leave the McClains in peace."