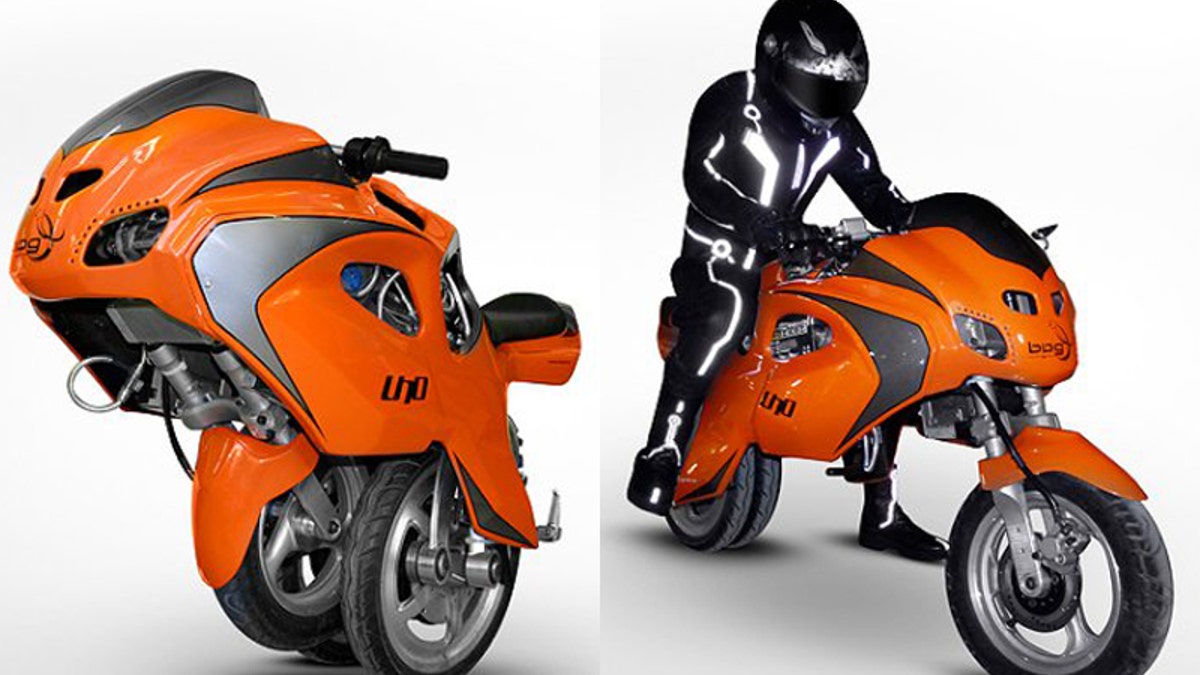 Wake up, get out of bed, get on your motorcycle and get on the elevator?
Not your typical morning routine, but the BPG Motors Uno is not your typical motorcycle.
Looking very much like a Segway fit for the film "Fast Five," the electric Uno balances upright on two parallel wheels. But instead of standing on it chariot-style, the operator sits like a motorcycle rider doing a wheelie…if you can call it that without a front wheel in the air.
To control it, the rider leans forwards or backwards to accelerate and slow down and the handlebars to turn – a collection of computer-controlled accelerometers and gyroscopes making constant adjustments to keep it from falling over. The Uno works in this fashion up to 15 mph, making it a perfect fit for use in tight spaces, both indoors and outside, but limiting its ability as a full-fledged commuter vehicle.
At high speeds, a "dicycle" like the Uno operating in this mode isn't stable enough to handle large bumps and deep holes in the pavement. The Uno overcomes this issue with the ability to deploy a third wheel forward, converting it into something closer to a conventional motorcycle. As the front forks extend, the rear wheels squeeze close together, effectively turning the Uno into a two wheeler, and allowing it to safely travel at highway speeds with the speed controlled by a twist throttle and hand brakes.
Sound like the flight of fancy of a teenager? That's exactly what it is. The Uno was originally designed as a high school science project by Ontario, Canada native Ben Gulak when he was only 17 years old.
"I knew I wanted to do something green for my science fair project that year, and I love motorcycles, I grew up watching Orange County Choppers and Monster Garage and I though, wouldn't it be cool to mesh green technology with motorcycles, which are inherently cool, and that's where the Uno really started," Gulak tells Fox Car Report LIVE!.
Watch Fox Car Report LIVE! Thursdays at 2pm on live.foxnews.com
Using tools and knowledge passed on to him from his late grandfather, who was an engineer, Gulak first developed the Uno as a pure dicycle, before adding its transforming ability. Four years and three generations of prototypes later, his company has attracted interest from a number of outside investors, including $1.25 million in angel funding from the venture capitalists on the Canadian edition of the television program "Dragons' Den."
Fox Car Report is on Twitter. Follow us @foxcarreport
The latest version of the Uno is classified as a scooter, and has a top speed of 35 mph running on old fashioned lead acid batteries. Gulak plans to replace them with a high-tech lithium-ion pack that will give it a top speed of 60 miles per hour and a range of 35 miles per charge. BPG Motors is searching for a strategic partner to help put the Uno into production as early as 2012, and is taking deposits on its website.
Given that motorcycles typically are driven much less than cars, and a the average commuter drives only 40 miles per day, electric two-wheelers are quickly gaining ground in the automotive sector, with companies like Zero Motorcycles and Brammo selling battery-powered motorcycles starting at about $8,000. Gulak says that BPG Motors hopes to offer the Uno for less than $7,000.
Even if he can't hit that price point, urban owners of the Uno can potentially save money on parking by simply tucking in the front wheel, riding it onto the elevator, and parking it next to the bed.
Maybe Gulak should think about adding an on-board alarm clock as an option.