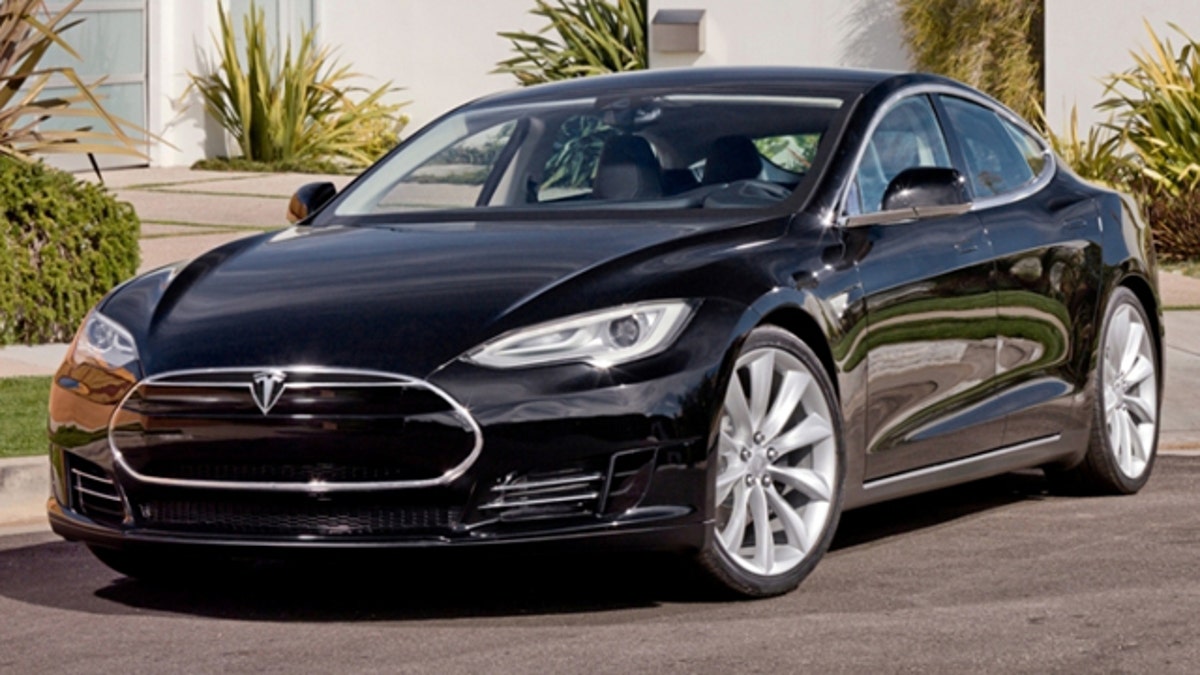 Production of Tesla's next car doesn't start until next summer, but the automaker is already turning up the juice.
At an unveiling for the final Beta test version of the all-electric Model S, the Palo Alto-based automaker announced that it will be offering a high-performance version of the seven-seat car to compete with the likes of the BMW M5.
The range topping model is expected to carry a price tag of approximately $87,400 and be capable of accelerating from zero to 60 mph in 4.6 seconds and offer a range of up to 300 miles per charge. Top speed will be limited to 130 mph.
The base $57,400 Model S will be slightly slower, but have a range of just 160 miles. Versions with larger battery packs in 230 or 320 mile ranges will also be available for $10,000 and $20,000 more. When the car was first proposed three years ago, company founder Elon Musk claimed it would have a maximum range of 300 miles, but an ultra aerodynamic wheel design has allowed it to surpass that figure in EPA testing.
The Model S was developed with help from a $465 million loan from the Department of Energy and will be built at a factory in Fremont, California once jointly run by General Motors and Toyota to build compact cars. Although it appears to be a four-door sedan, it is actually a hatchback and features two rear-facing seats in the back that can accommodate passengers up to 4 ft 11 inches. The highlight of its luxury interior is a 4G-enabled infotainment system with a 17-inch display.
According to GreenCarReports, Tesla will also be installing commercial fast chargers in several locations along Interstate 5 on the west coast of the United States that are capable of recharging even the largest 85 kilowatt-hour battery pack in less than an hour. For perspective, the much smaller 24 kWh battery in the Nissan Leaf needs 30 minutes to reach an 80 percent state of charge on a fast charger and has an EPA-rated range of just 73 miles on a full battery. Using a 240-volt home charging station, Tesla says the Model S should take about 5 hours to fill up.
Musk also surprised reporters at the event by announcing that a crossover version of the Model S called the Model X would be revealed before the end of this year. Autocar reports that Tesla manufacturing chief Gilbert Passan said that the factory "had been fitted and equipped with the ability to manufacture multiple body styles off the same platform from its conception." Musk added that "the time is right to unveil the car."
Sales of Tesla's first car, the two-seat Roadster, which was engineered and is built with help from Lotus Cars in the United Kingdom, are set to end this year when a waiver for its lack of a smart airbag system expires.