Muhammad Ali's custom Benz to go up for auction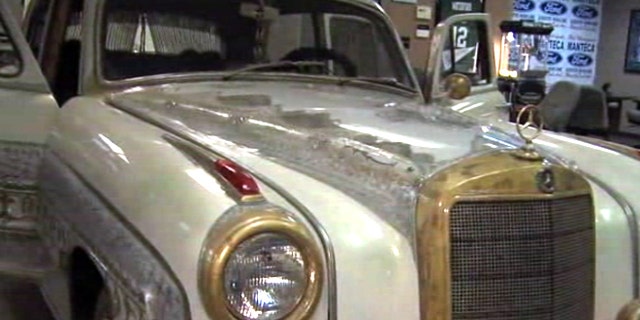 This car shines bright – after all it has more than 270 precious jewels, including diamonds.
From the bumper, headlamp assembly, grill, buttons, knobs and switches, they're all 23 karat gold.
This 1959 Mercedes Golden Angel Wing is completely re-designed and was once owned by Muhammad Ali. It's now here at Manteca Ford, Fox40 reports.
From every jewel and minute detail, the owners have kept a thorough log.
PHOTOS: Jewel-encrusted Car Belonged to Muhammad Ali
"The appraisal on this vehicle is $1.5 million," said Phil Waterford, owner of Manteca Ford told Fox40.
The vehicle has travelled more than 500 miles, coming from Las Vegas to Manteca. The wishes of the family that owns the car has decided to try and put it up for auction, with the proceeds going to fight global world hunger.
And the offers have already started pouring in.
The car will be here at Manteca Ford two weeks, and then it will go to a high end auction.
"I think this car will end up in a museum," Waterford.
There is a message behind all the mink and bling.
"It is meant to glorify God … all the complexions of the human race," Waterford said.
Restored Muscle Car Raffled for Charity in Lodi
Deputies Recover Stolen Flintstones Car