Motorists Alarmed by Japanese Car Recalls, Except in Japan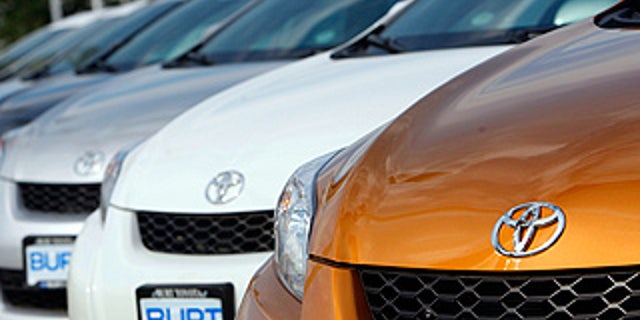 TOKYO – American Toyota owners are understandably alarmed about ballooning recalls over faulty gas pedals and floor mats. In Japan, the automaker's home market, where there have been no such recalls, the reaction is — also understandably — muted.
Some of the same Toyota Motor Corp. models recalled in the U.S., Europe and China are on Japanese roads. But they use a different parts supplier than CTS Corp., the American parts-maker which has been rushing to fix the faulty parts behind the massive recalls.
Dealers in the U.S. are being deluged with queries from worried customers. For dealers in Japan, it's basically business as usual.
"Some of our customers express sympathy about Toyota's overseas problems," Naeko Kawamata, a saleswoman at a Tokyo Toyota dealer, said Saturday. "But we aren't getting queries on recalls."
Click to follow Fox Car Report on Twitter
So far, Toyota's reputation for quality is holding up in Japan. One factor in Toyota's favor is that Japanese often assume that Japan-made products are better than those made abroad — meaning that their Toyotas are safe.
"I think Toyota cars are very reliable," said Takashi Itoh, a photographer whose family members drive Toyota models.
"The cars being recalled in China and the U.S. aren't made in Japan. They were made there. Those kind of problems definitely won't happen in Japan," he said.
Some Japanese experts are optimistic the fallout from the U.S. woes will fade in a few months — as long as Toyota responds relatively quickly to fix the problem.
They see Toyota's troubles as having crept up because the automaker expanded too quickly over the last several years, making it difficult to duplicate the "Toyota Way," known for impeccable quality controls, in places that are quite different from Japan.
"Toyota appears to be trying to respond with care," said Hideaki Miyajima, a professor of business and economics at Tokyo's Waseda University.
"Toyota has grown to where it is now by sticking to safety standards. If it can overcome this problem, it can even make the experience a plus for its future."
Overnight, President Akio Toyoda apologized for the worries the recalls caused Toyota owners.
At the World Economic Forum in Davos, Switzerland, he told Japanese public broadcaster NHK, "I am very sorry that we are making our customers feel concerned."
"People can feel safe driving in the current situation," he added. "Please trust that we are responding so it will be even safer."
Toyota said it began shipping gas-pedal parts to its dealers Friday for use in fixing the millions of cars and trucks recalled because of accelerators that could become stuck.
Company spokesman Brian Lyons said he did not know when the parts would arrive or how long it would take the automaker to complete repairs on the 4.2 million vehicles worldwide covered by the recall. He said details of the fix will be announced next week.
After accounting for earlier recalls for floor mats and some vehicles being recalled more than once, the global recall amounts to more than 7 million vehicles, a staggering number.
Hidekai Homma, a Toyota official in Tokyo, said media reports giving that number as the equivalent of Toyota's annual vehicle sales are providing an exaggerated picture of the problem.
"We don't welcome this kind of thinking at all," he told The Associated Press. "No matter what, we believe we have responded speedily to a problem that has come up."
Consumer Reports, an influential U.S. publication, has suspended its "recommended" status for the eight recalled models, dealing another blow to the Japanese automaker's reputation in the U.S.
Toyota stopped selling the eight U.S. models, including the top-selling Camry, on Tuesday. It also announced that it will stop building them in the U.S. until the problem is fixed.
Click here for more auto news and reviews from Fox Car Report