Dok-ing XD is a Croatian Electric Dream Car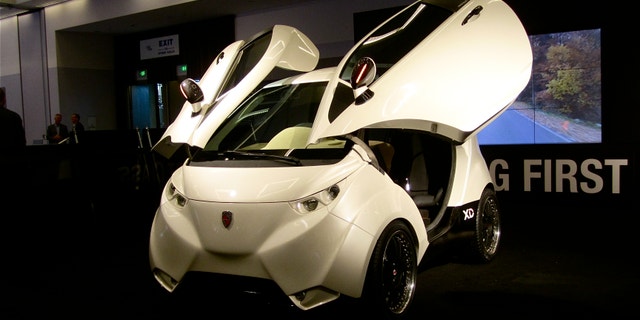 Some kids never grow up.
Croatian industrialist Vjekoslav Majetic has created an electric car, the Dok-ing XD, which he calls his "childhood dream." It made its American debut at the 2011 Los Angeles Auto Show.
Just 9 feet long, the futuristic microcar features gullwing doors and seating for three, with the driver in the center and two passengers set back on either side.
The car is powered by a 33 kWh battery pack and either two or four electric motors with a maximum output of 240 hp. According to Dok-ing, the more powerful version can accelerate from 0-60 mph in a supercar-quick 4.2 seconds, the same as the Tesla Roadster, and has a range of up to 135 miles per charge. The slower, but still sporty two-motor model can go 155 miles between charges.
Built on a lightweight aluminum chassis designed in house, the tall and wide XD features a racecar-style double wishbone suspension front and rear.
Dok-ing is planning to build 1,000 XDs for sale in Croatia at a price of around $108,000, but a company rep tells FoxNews.com that it is looking for investors to help federalize the car and set up a manufacturing facility for it in the United States. If successful, it says that it could produce up to 30,000 cars at a price of around $40,000 each.
If that sounds ambitious, keep in mind that the Zagreb company's main business is building robotic vehicles for firefighting, mining and mine-sweeping that are used by the U.S. and other militaries around the world. Its motto: don't send a man to do a machine's job.
And the XD isn't the first electric sports car concept to come out of Croatia. Earlier this year another Zagreb-based company, Rimac Automobili, unveiled the Concept One, a more traditional-looking sports car that boasts 1088 hp and a top speed of 190 mph.
Read: Croatia's 190 MPH Electric Supercar
Could Zagreb become the electric motor city? In the battery-powered dream world anything seems possible.