Cars mysteriously stuck in garage for 15 years go up in flames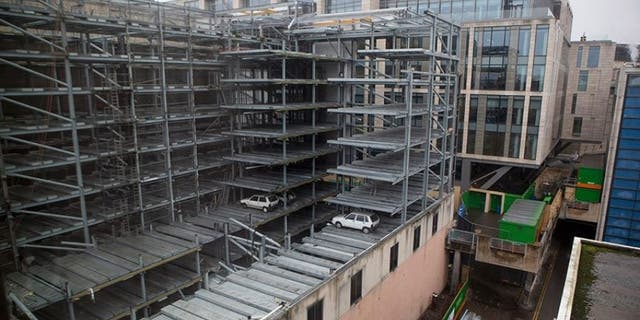 NEWYou can now listen to Fox News articles!
Two cars that had been stuck inside of an abandoned automated parking garage for 15 years caught fire on Wednesday as construction crews worked to dismantle the building.
The facility went bankrupt in 2003 and hasn't operated since. It's in the process of being replaced by a new development.
The cars and six others were discovered in January when the façade of the building was removed. No one is exactly sure why they were still there or who they belong to, although one former garage employee thinks they may have been salvage cars brought in to test the parking system.
According to a witness in a nearby building, demolition crews were using a torch that sprayed sparks onto the vehicles and ignited them. Fortunately, the structure the cars are sitting on is made of metal so there was nowhere for the fire to spread.
The Sun reports that fire crews were on the scene for just over an hour and no one was injured by the blaze.
ARE YOU FOLLOWING FOX NEWS AUTOS ON FACEBOOK?
Unless someone tries to claim any of them, the new owners of the place said that all of the vehicles are now the property of the demolition company.
PHILLIPINE GOVERNMENT CRUSHES DOZENS OF LUXURY AND CLASSIC CARS: